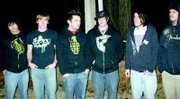 RICHLAND - If you are looking for a variety of local sounds, one needs not to look far.
Jackson's Sports Bar and Restaurant of Richland is hosting the "Meltdown Live Music Block Party" Saturday, Aug. 18, from noon to midnight.
More than a dozen music groups from around the state will converge on the event. The music ranges from soft rock to progressive rock, country to blues.
Some of the featured entertainers include the recently featured Mister Orange, whose lead singer originates from Grandview; Blue Is Cold, an indie rock and country band from Richland; Black Cat Bone, a rock and blues group also from Richland; and Table Top Joe, a group that mixes the sounds of folk rock, progressive rock and indie rock.
Entertainment will be featured both indoors and outdoors, beginning at noon with the Tri-Cities Roller Girls' roller derby debut outside the facility. Nigh time entertainment begins at 9 p.m., featuring Chase Thompson on the outdoor stage and Beefy indoors.
The event is open for all ages until 9 p.m. Those attending for the full day of events must be 21 or older. The cost is $7 per person for those attending from noon to 9 p.m. The full day price, noon to midnight, is $12.
Jackson's will have drink specials and a drawing for a deluxe Meltdown souvenir package.
The event is co-sponsored by Reactor Magazine, Budweiser and Broken Road Entertainment.
Jackson's Sports Bar and Restaurant is located at 99 Lee Boulevard in Richland.
For more information, contact Tracy Roberts at 509-531-5677 or email her at meltdown@tri-cityevents.com.