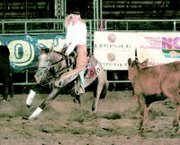 SPRINGFIELD, ILL. - Local rodeo talents Sami Jo Sartin and T.J. Hays recently returned from the National Rodeo Finals in Springfield, Ill.
The two Sunnyside youth competed in the National High School Rodeo Association's (NHSRA) finals July 22-28.
Sartin earned herself a second place showing in the talent show at the event for her performance of "How Do I Live" by Trisha Yearwood. The song was written by country star LeeAnne Rhimes.
As a result of her runner-up finish in the talent contest, Sartin was awarded a medallion, a $750 scholarship, an Ariat belt, a NHSRA backpack, an Ariat baseball cap and $150 certificate for Wrangler products.
She said she also won her first two performances in the cutting competition. The score for her first performance was 215.5 and her second performance scored 216.5, earning her a spot in the "Short go" competition.
Sartin stated that the "Short go" competition gives the top 20 competitors a chance to garner more points to narrow scores to the top 10 competitors. "I scored 205," she noted.
The final score earned Sartin a fourth place final standing at the finals. "I was awarded a $400 scholarship from the NHSRA, a $100 scholarship from Wrangler, a top 10 buckle with two rubies and a NHSRA bag to carry my gear," she beamed.
"I borrowed my grandpa's horse from Utah, named Little Sunray, and the trainer, Lawson Hadlock, came with us for the competition...it was the highlight of my summer," Sartin exclaimed.
Hays also said the trip was "...the experience of a lifetime."
Though he didn't do as well as Sartin, he felt he gained a lot of knowledge and experience just from being in the competition.
"I was able to meet new people, and I met one person from as far away as Australia," he said.
He was disappointed that he was unable to score in his first steer wrestling event. "I missed the left horn in the first round," he said.
His second round efforts were also amiss "...because the horse was already mad from the rider before me." Hays said the person who rode the horse he was on had roughly handled the horse, and it refused to respond as he wished.
"But, the overall experience was extremely enjoyable," he added.
Both Sartin and Hays have plans of competing at the college level.
Sartin will attend Eastern Washington University this coming fall, and she said she will be competing in the barrel racing events in National College Rodeo Association competitions. "They don't have cutting at the college level, so I will need to work on my barrel racing if I want to return to (college) nationals next year," she noted.
However, she added that she is looking forward to the challenge and is eager to improve her standings in the event.
"The most important thing I learned is that if I have fun, my performance outcome is better," she concluded.
Hays plans to attend Walla Walla Community College in the fall. He will continue to steer wrestle at the collegiate level.
He said of the impending rodeo season, which begins in September, "I anticipate a higher level of competition."
. Jennie McGhan can be contacted at (509) 837-4500, or e-mail her at jmcghan@eaglenewspapers.com
photo courtesy of Sami Jo Sartin
Cutting is a competition that garnered Sami Jo Sartin a fourth place finish at the National High School Rodeo Association's Finals in Springfield, Ill. Unfortunately for the Sunnyside youth, she will no longer be able to compete in the event. She will be working on her barrel racing skills at the college level beginning this coming fall.