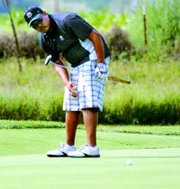 Louis Alcala of Zillah and Gary Hutchins of Selah teamed to win the 2007 Two-Man Triple Threat, staged yesterday at Sunnyside's Black Rock Creek Golf Course.
The Sunday, Aug. 5, tournament drew 15 two-man teams. The tourney was divided into three formats...six holes of best ball play, six holes of alternate shot competition and six holes of scramble golf.
Alcala and Hutchins ham-and-egged their way through the 18-hole competition with a 7-under-par 65. One shot back with a 6-under 66, good for second place honors, was the team of Kevin Lick and Andrew Michels.
Third place finishing David Stokes and Bob Hall were the only other golfers to shoot a sub-70 round, posting a 3-under-par 69.
The last team to cash on the gross side of the scoring column was comprised of Ron Capps and Don Capps. The fourth place finishing duo carded a 1-under 71.
On the net side (actual score minus handicap), Jim Holt and Scott Andrews bested the field by turning in a handicap-aided 61. A shot back at 62 for runner-up net honors were Marty Drollinger and Chuck Mattocks. Rounding out the list of golfers who cashed on the net side of the payout column were third place finishing Miles Plata and Lucas Pruneda (63), and fourth place finishing Trevor Johnson and Don Cardenas (65).
L. Alcala, G. Hutchins 65
K. Lick, A. Michels 66
D. Stokes, B. Hall 69
R. Capps, D. Capps 71
P. Stonemetz, T. Lenseigne 74
J. Holt, S. Andrews 74
K. Arambul, B. Benitez 74
J. Drollinger, D. Foster 75
T. Johnson, D. Cardenas 75
M. Plata, L. Pruneda 75
M. Drollinger, C. Mattocks 77
J. Bos, J. Guerrero 78
B. Damaskos, D. Angotti 78
T. Hidalgo, J. Eberle 86
T. Monholland, R. Kroger 89