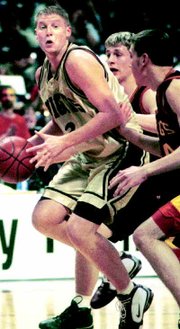 Sunnyside native Lance Den Boer has had a basketball in his hands from cradle to adulthood.
It all started at the age of one when his father Larry gave him his first basketball and taught him how to shoot. The basketball life continues for Den Boer next Monday, Aug. 13, when he travels to Germany to make his professional basketball debut.
Along the way he has knocked down records as easily as a long distance three-pointer.
He won the national Elks free throw shooting contest as a youth and set the state high school basketball career scoring record while at Sunnyside Christian High School.
In just three years, the WSU transfer student was the fifth leading scorer in CWU hoops history. He led the Wildcats in scoring all three years and set a national free throw shooting record.
So it's no surprise Den Boer would want to continue that momentum on the pro stage.
"It's been a goal of mine to play pro basketball," Den Boer says. "It's a humbling experience. I just want to enjoy it as much as I can."
Den Boer will play with a team based in Weissenfels, a city of 28,000 people that's about a 90 minute car ride from Berlin.
The team's name, loosely translated as the Middle or Central German Basketball Club (MGB), seems to indicate that Den Boer and his teammates will not only be cheered by the residents of Weissenfels, but by other communities in that region, as well.
Under new rules in place starting this year, German hoop teams like MGB in the B League can increase the number of Americans from two to six.
Den Boer said he's not worrying about the fact he will be representing not just a team, but a nation when he leaves the States for Germany.
"I try not to think about it too much," he says, noting his approach is "just work hard and good things will happen".
Den Boer said MBG plays 30 league games each season and travels to out-of-country tourneys in the Czech Republic and Poland.
He said he chose MGB over an offer he received from a German club in Heidelberg after talking with MGB's coach, Uwe Schwab. Schwab is acquainted with a former teammate of Den Boer's at CWU, who gave the coach a tape of the Sunnysider's play.
"I talked to the coach and it's a good fit," Den Boer said of MGB. "They have nice training facilities."
At 6-6, Den Boer will see action as a shooting guard/small forward in the German League, which plays according to international basketball rules that feature a wider key and a three-point line set a bit further back than college basketball.
"I think they play more of a team-oriented game, versus the one-on-one game," Den Boer said of European hoop leagues. "The biggest adjustment for me is moving without the ball, and the game is more physical compared to the college game."
The move will be an adjustment for Den Boer's parents, Larry and Joan, who watched his home games both at Sunnyside Christian and at CWU in nearby Ellensburg.
"As a mother, I'm going to miss him terribly," said Joan, who noted the family hopes to travel to Germany to catch a few of Den Boer's games. "We are very happy for him. He's set goals all his life and he's met them. It's pretty special."
Larry, a 1975 Sunnyside High grad who still holds the school basketball record for most points in a single game (42), is taking the "blame" for their son's big move.
"I got him started playing basketball, so I guess that's what I get," he laughed.