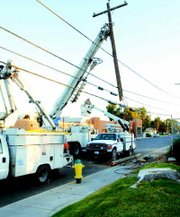 A motorist sheered off a power pole on South 11th Street early Sunday morning, disrupting telephone service to nearby Sunnyside Community Hospital.
Pacific Power and telephone work crews arrived on the scene soon after the accident occurred, estimated to have happened at about 4 a.m. yesterday morning. As of 8:30 a.m. today (Monday), telephone service had been restored at the medical facility, with the exception of phone service in the hospital's business office.
Hospital officials were quick to report that patient care wasn't affected by the telephone outage.
Sunnyside police were telephoned by 23-year-old Noel Garcia at 4:18 a.m. Sunday morning and told that the accident had occurred. Garcia, who told police he escaped injuries when his SUV struck the power pole, was instructed to return to the scene of the accident and stand by for the arrival of an officer.