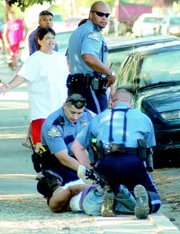 An alleged death threat reportedly made by a male brandishing a gun resulted in two arrests yesterday afternoon.
A resident in the 800 block of South Fourth Street called Sunnyside police Monday at about 5:30 p.m., stating that someone had pulled a gun out and threatened her child.
Arriving at the scene, officers attempted to locate the suspect and soon thereafter a chase ensued, involving two suspects.
Police quickly apprehended Dustin Herrmann, 19. Local law enforcement officials said they will seek to file a charge of felony harassment against Herrmann.
A second suspect, Noel Cerda, continued to run from police, however, they were able to catch up to him at Jackson Avenue and South 10th Street at approximately 6 p.m.
Because Cerda refused to surrender, police officers used a taser to subdue him.
The 20-year-old man was arrested and taken to Sunnyside Community Hospital for observation.
The Sunnyside Police Department said the pending charges for Cerda are obstructing a police officer, resisting arrest, possession of marijuana and possession of drug paraphernalia. He was also booked on warrants from another jurisdiction.
No further information on the incident was available at press time.