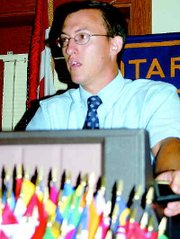 Three Grandview men were on hand this past Monday at the Sunnyside Rotary meeting to discuss business education seminars that are slated to take place starting in October.
Yakima Valley Community College Grandview campus Dean Bryce Humpherys, businessman Gary Christensen and Grandview City Administrator Scott Staples informed the Rotarians about the educational opportunities.
Humpherys explained that last year, the Sunnyside, Grandview and Prosser chambers of commerce worked together to develop a series of workshops aimed at bettering businesses and plans were currently underway to do so again this year when the opportunity arose to work with the University of Washington and Central Washington University.
"We jumped on the timing, taking what was in place and adding some additional workshops," Humpherys explained.
Because of the collaborative efforts, a total of 10 workshops will be given as opposed to four, he said. Five will be presented in English and five in Spanish.
Ideas for the English-version workshop topics include marketing, hiring practices and interpersonal communications. For the Spanish-version workshops, topic ideas include marketing, record keeping, taxes and customer service.
Christensen recently hired an instructor that led one of the business classes last year to present six workshops to his employees at R.E. Powell Distributing. "I've seen a marked improvement in our employees that we haven't seen before," he said.
Christensen encouraged Sunnyside business owners to participate in the workshops. "If we can pull the whole area together, it's going to help with economic growth and development," he said.
Staples said that while he was city administrator for Toppenish, he saw first hand how valuable the business workshops could be. "I can tell you without any hesitation at all that they are very worthwhile workshops," Staples said. "There is such a crying need for educating business employees."
The series that YVCC will host will cost $65 per session, per person for non-chamber of commerce members (or $55 per session if one signs up for all five). Cost for Sunnyside, Grandview and Prosser chamber members is $15 per person, per session, or $10 per session if one signs up for all five.