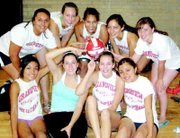 The Grandview High School varsity girls volleyball program got a head start on fall competition by recently taking part in two summer tourneys.
The first was the Western Washington Tournament, in which the girls claimed third place honors.
During that tourney, Grandview defeated Synergy 25-20, 25-18, 25-14; lost a five-game thriller to Kings, 17-25. 25-19, 25-17, 10-25, 10-15; and defeated Ferndale 25-8, 25-14, 25-22.
The Lady Greyhounds defeated Tumwater 25-23 and 25-15 to bring home third-place honors.
On July 28, Grandview played in a tourney at WSU. The Lady Greyhounds won that tournament by defeating Shadle Lake, Kamiakin and Okanogan.