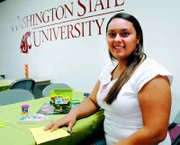 GRANDVIEW - Grandview Junior Miss Katie Veloz has just returned from Pullman where she competed last Saturday for the title of Washington Junior Miss.
All told, 18 Junior Misses from around the state competed and Pullman Junior Miss Annie Wang claimed the 2008 title. Approximately $7,000 in scholarships were awarded at the event, with Wang being awarded $4,400.
While Veloz didn't win a title or a scholarship while there, she did learn a small amount of sign language.
"My favorite part was probably the host family and meeting a child they adopted who's deaf," she explained. The boy was four, she added, and she learned just enough about communication to have fun playing with him. He also gave her an unexpected gift, his very own special sign for her name, which is the sign language K mixed with the sign for music.
Veloz's talent for the program was playing the piano. Prior to her trip, Veloz knew that she better not rely on memory, but rather sheet music, because she might be nervous. "I was nervous, but I played it fine. I'm glad I used a music sheet," she said.
Veloz said that the schedule was grueling- the competitors had to prepare for the pageant from 7:30 a.m. to 9:30 p.m. daily, with an hour break for lunch and then an hour break for dinner.
While staying with the host family, Veloz was not allowed to receive emails or phone calls of support, only letters. On the first day, she said, she received about 12 letters. After that, she received about five a day, and there were a few surprises, including a letter from a woman that judged Veloz this past April during the Grandview program. "I had no idea who she was until the end of the letter, when she explained it," said Veloz.
Veloz said she was amazed at the support from both the current Junior Miss court and the Junior Miss committee members, especially program organizers Cookie Shannon and Lucy Dykstra.