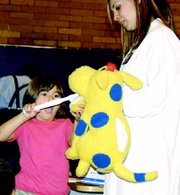 MABTON - The Mabton Community Center's Feed the Brain grant provided an opportunity for children participating in the Summer in the Park program to learn about dental hygiene this past Monday.
Frances Garza and Yanaira Valdez of the Yakima Valley Farmworker's Clinic visited the children to help them learn proper care of their teeth.
Garza began her presentation asking the children if they visit the dentist on a regular basis.
She told them it is important to take care of their teeth to prevent cavities and gum disease.
Outlining the different foods that can cause cavities, Garza informed the children that sugars and starches need to be brushed from teeth because they are the main causes of tooth decay.
She said it is especially important that the children clean their molars because "...molars are important for chewing and they have crevices where the starch and sugars like to hide."
Garza explained the difference between sealants and fillings, citing that sealants are used to prevent foods from becoming lodged in the crevices of teeth and fillings are to repair damage already done by tooth decay.
"Gum disease is another thing we have to worry about," Garza told the children at the Mabton Learning Center, where the Mabton Community Center is currently providing its activities for children.
She said the cause of gum disease is plaque and tartar. The plaque is soft, according to Garza, and can be removed easily with daily brushing and flossing. When a person doesn't brush daily, the plaque hardens to become tartar.
She said these elements cause the gums to become infected and the gums will pull away from teeth as a result.
Garza showed the children illustrations of the effects of cavities, tartar and plaque on teeth before demonstrating the proper method for brushing and flossing.
She explained there are many who brush up and down, but it is recommended to brush at a 45 degree angle in small, circular motions to most effectively clean the teeth.
With the floss, Garza said to "hug your teeth." She told them flossing with straight motions can irritate and damage gums.
"Flossing gets in between teeth, where the tartar likes to hide," she stated.
She also instructed the children to brush for 10 seconds per section of four teeth and to floss, counting to three while "hugging" each tooth.
Garza ended her presentation saying, "Our smile is the first thing people see and it is important to have a healthy smile."