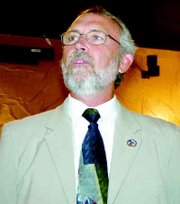 Approximately 300 new laws were adopted during the last state legislative session in Olympia.
State Representative Dan Newhouse of Sunnyside told Sunnyside Daybreak Rotary Club members during Wednesday morning's meeting, "Some things were accomplished and some weren't able to be accomplished."
Overall, he said he was pleased with the bills that were passed during the 2007 legislative session.
Highlighting bills that passed, Newhouse said a mandatory sex education program was adopted because lawmakers felt guidelines were needed in the schools. He also noted that WASL graduation requirements were delayed, a family leave benefit bill was passed and a "rainy day" fund for state savings of 1 percent was also passed.
Newhouse said there is more to be done with legislation on sex offenders. He said the state is headed in the right direction with a bill passed making sex offenders more accountable for registering.
A bill that failed was legislation on gang affiliation. Newhouse said he was a proud sponsor of the bill, and even though the bill failed to make it to the governor's desk, lawmakers did decide to appoint a task force to study the need for anti-gang measures. He said he has hopes the end result will be more stringent laws against gangs. He cited the ordinance recently passed by the city of Sunnyside and expressed his approval of the city council's "courage" in taking a stance against gangs.
One popular bill, with Sunnyside resident Jeri Honeyford's name attached to it, is the Heritage Barn Preservation bill, according to Newhouse. He said the bill is designed to preserve the history of barns in the state of Washington, and the public has approached him many times, expressing their appreciation for the bill.
Newhouse said he is looking forward to the 2008 legislative session and anticipates the issue of the foster care system to become a topic that will be addressed. He said there have been many issues regarding the foster care system making headlines and there may be a bill to place "better supervision" on the system.
He also told the Sunnyside Daybreak Rotarians that there may also be more laws addressing the issue of sex predators, in addition to the laws already passed.
The issue he feels the public should be very aware of is that of school levies. "A simple majority law is being proposed, but it will be voted on by the people before it can become the law," Newhouse stated.