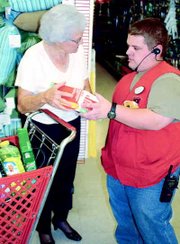 Chad Wattenbarger has been working in customer service for the Sunnyside Ace Hardware store for four years now, and says his top priority is helping customers.
"I like interacting with the customers," he said, noting that he appreciates feedback from customers as they utilize their purchases around the house or yard.
Wattenbarger, a Sunnyside resident, works in the store's sporting goods section. He says these days lawn and garden items are particularly popular, as are air conditioners during summer heat which can reach into triple digit temperatures.
The key to being a good customer service employee, Wattenbarger notes, is having a personality that enjoys talking with the customers and other employees.
In addition to serving Ace customers, Wattenbarger also helps maintain the inventory of the Sunnyside store, making sure the shelves stay stocked with items that customers need.
He also helps store patrons custom order items.
Wattenbarger said one of the challenges of his job is "figuring out a solution" for customers who are trying to troubleshoot a problem on the home front. He noted that customers will describe a need they have, and he and other customer service employees will try and help find the product to resolve the situation.
Ace Hardware customer Kathryne Smith is among those who appreciate Wattenbarger's friendliness and helpfulness on the job.
"I couldn't get my shopping done without Chad!" she smiled. "He's so helpful."
It's all in a day's work for this Sunnyside man who puts customers first.