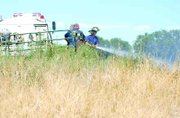 Sunnyside firefighters were dispatched to assist Yakima County Fire District #5 yesterday (Wednesday) with a grass fire at Sunnyside/Mabton Highway and Duffy Road just before 2 p.m.
Firefighters from both agencies were able to extinguish the fire. It is undetermined what caused the fire.
The Sunnyside Fire Department has also provided five aid calls since Monday. Three aid victims have been taken to Sunnyside Community Hospital by ambulance.
The fire department's ambulance service provided four patient transfers from Sunnyside Community Hospital since Monday, as well.