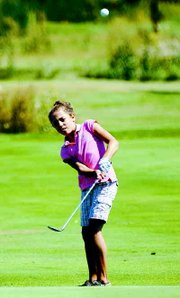 Black Rock Creek Club Pro Jeff Bender's handiwork is turning up everywhere.
Evidence of his influence especially came to light at yesterday's 2007 Central Washington Chapter PGA Pro-Junior Tournament, hosted by Bender at Sunnyside's Black Rock Creek Golf Course.
"We had a pretty good day on Thursday," Bender smiled.
The grin that engulfed the face of the ruggedly handsome, personable golf instructor was justified, considering two of his students won top honors in their respective age divisions. Two other students of his also had a big day in Thursday's tourney, coming away with a second and third place finish.
Oh yes, then there was Bender, himself. Of the 16 club pros competing Thursday, he ran away from his peers by posting a 4-under-par 68 (33-35), two shots better than his closest competitor, that being Jeff Hendler of Pasco Golfland. Club pro Pat Welsh of Wenatchee's Three Lakes Golf Course finished third with an even-par 72.
As well as he golfed yesterday, Bender preferred turning the spotlight on the junior golfers he regularly tutors.
Heading up that list is Goldendale sensation Zach Wanderschied, with whom Bender has been working for the past couple of years.
"A heckuva talent," Bender said of the boys 15/17-year-old age division competitor. Wanderschied waxed the competition Thursday, even besting the lowest club pro's score, by touring the Sunnyside course with a 5-under-par 67 on front and back side scores of 31-36.
Wanderschied finished five strokes ahead of the boys 15/17-year-old runner-up, Kennewick's Jeff Neher, who posted a nifty, even-par 72. In third place in the senior boys division was Alex Cantu, another highly regarded junior golfer from the Tri-Cities. Cantu carded a 3-over-par 75.
Sunnyside High School senior Justin Bos, despite playing what Bender described as struggling golf, grinded it out and earned a tie for fourth place honors in the older boys division by notching a 4-over-par 76.
Wanderschied's sister and another of Bender's students, Brea, also came away from yesterday's tourney with a first place finish. The young Goldendale product topped the girls 12/14-year-old age division by shooting a 93 on the 18-hole course.
In the boys 12/14-year-old age division, Bender's 13-year-old son, Devin, finished just one shot back of the winner, Kennewick's Sampson Martinez. The younger Bender toured the course with a 9-over-par 81, with Martinez posting an 80.
"Devin's really starting to come into his own," the proud father said.
Another of Bender's students, East Valley High School's Christine Cook, excelled Thursday, too. Cook claimed third place honors in the girls 15/17-year-old age division. She fired a 12-over-par 84. The winner and runner-up were East Wenatchee's Monica Graf and Neddy Martinez. Graf, who's accepted a full-ride golf scholarship to Gonzaga University, nailed down a 1-under-par 71 yesterday. Martinez was two shots back at 73.
All told, a total of 68 junior golfers competed in Thursday's tourney, as well as 16 club pros representing Central Washington's golf courses.