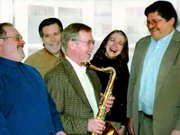 Sunnyside residents are invited to bring a picnic dinner and their folding chairs to Centennial Square just prior to a Tuesday, Aug. 28, 7 p.m. performance by the Joseph Brooks Quartet, featuring jazz vocalist Pam Ernst.
The free jazz concert in downtown Sunnyside is open to all community residents.
Brooks' band is widely known as one of the top performing jazz groups in Central Washington. The leader of the quartet, Brooks is currently the professor of saxophone and clarinet at Central Washington University in Ellensburg.
While most often heard as a classical clarinetist and saxophonist, Brooks has been active in the jazz field for more than 40 years. He has been a member of numerous jazz ensembles, such as The Jazz Connection, The Denton Jazz Machine and The A Train Express.
The group's pianist, CWU graduate Bart Roderick, has been teaching music in Yakima area schools for 16 years. His remarkable versatility as a keyboardist had led him to professional work as a musical director for Yakima Warehouse Theater productions, and as an accompanist for such artists as Smokey Robinson, the Hagar Twins, Michael Peterson, Wayman Chapman and more recently The Paul Allen Band.
Bob Waldbauer is also a member of the quartet, and is probably the most often heard jazz bassist in South/Central Washington. He studied music at Olympic Community College in Bremerton, but now lives in Yakima. In addition to playing with the Joseph Brooks Quartet, Waldbauer plays with Jazz GSA, The Sophisticated Swing Big Band, the Nu-Jazz Co-op, The Marlayne Kyle Trio, The Jeff Smith Big Band and Barry Donahue's Big Band. Also, Waldbauer is a regular performer at the Port Townsend Jazz Festival.
The group's drummer, Don Kinney, is originally from New Mexico and began his musical career with a jazz trio that performed in Chicago, Houston and San Francisco. Later, he became the principal percussionist with the New Mexico Symphony Orchestra. He has also played drums in a band that backed up performers such as Della Reese, Diane Carroll and The Supremes. Kinney interrupted his musical career to attend law school, and now practices law in Yakima.
Jazz vocalist Pam Ernst will join the Joseph Brooks Quartet in Sunnyside on Aug. 28. Singing since a very early age and a native of the Yakima Valley, she has performed in musicals in the Seattle area, as well as in many local venues. Ernst has performed for the past several years as the vocalist for Darwin's New and Used.