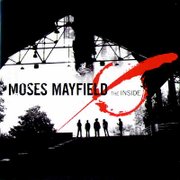 Moses Mayfield, a five-piece rock band from Birmingham, Ala., recently released its first album, The Inside, on a major label.
Previously, the band had released an EP titled Unified in 2003 and a full-length album in 2004 called Enough to Let Go.
This is the band's first foray into the big time with Columbia Records now handling them. I had never heard of the band until reviewing their latest CD.
There is a buzz going around this band might be on the 2007 Lollapalooza tour this summer but I have not been able to deny or confirm that.
What I can confirm is, Moses Mayfield isn't that bad. That's my way of saying I don't really like them but can't fault them either.
The band has opened on tour for such notable groups as Pete Yorn and Blue October.
The band is comprised of bassist Hans Ford, guitarist Will Mason, keyboardist Matt Taylor, drummer Will Drake and Matthew Mayfield on vocals.
I guess the best thing I can say about this band is they play it safe. The first song on the CD, Days Away, starts out slow but then transits to safe rock-n-roll. When I say safe, I mean they're not going to offend anyone with their brand of music. The problem with that though is they are unlikely to impress anybody either.
When I was listening to the CD at home and scribbling notes, I wrote, "...slow music, last grasp attempt at an 80s band or either horribly trying to attempt a new style of music."
I then added, "sucky tunes."
The song Control wasn't too bad. It was still slow but a little cool, as well. It still sounded like an 80's song but with a twist of 90s thrown in for flavor.
After that, Fall Behind, Element, Ceasefire, The Inside and Keep My Distance all fall into the category of soft rock.
As a matter of fact, none of the 12 songs on the CD pumped my blood at all. I could listen to this CD once, maybe twice on a road trip before I committed Seppuka, the ancient art of Samurai suicide.
I seriously doubt many people will remember this band in a few years. I mean, who remembers the Bullet Boys, Dirty Looks or Pretty Boy Floyd?