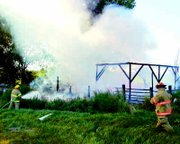 Commuters traveling to work could see a black plume of smoke from a shed fire on the north end of Sunnyside this morning.
Firefighters from the Sunnyside Fire Department and Yakima County Fire District #5 were dispatched to the 1300 block of Scoon Road just before 8 a.m. for the fire.
Sunnyside police officers also arrived at the scene and Sunnyside Police Sergeant Oliver Hernandez discovered a German Shepherd, who was in a kennel near the fire. Hernandez saved the dog from the fire by releasing it from the kennel and securing it away from the blaze.
When firefighters arrived, the shed was fully engulfed. The structure has been deemed a total loss.
The owners of the shed, Jose and Tammy Leon, were not at the scene, and Sunnyside Deputy Fire Chief Lloyd Hazzard was unable to speculate the value of the damage until the owners could disclose the contents of the shed.
He said the cause of the fire is still under investigation.