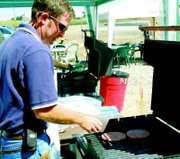 State health officials are developing new rules to clarify the medical use of marijuana.
The development of the rules is part of recent legislative changes to a law passed by voters in 1998. Lawmakers directed the state's department of health to determine what constitutes the 60-day supply of medical marijuana. The legislature also called for a report on how patients could gain access to adequate and safe sources of medical marijuana. That report is to be based on research, expert advice, public input and the best practices of other states.
"There's a lot of interest in these new rules and how they'll affect the law," said Blake Maresh, who is directing the rules effort for the health department. "This is the first step.
"We want to hear from anyone interested in the topic," he said.
A public workshop will be held in Yakima in mid-September. Comments may also be submitted in writing to MedicalMarijuana@doh.wa.gov.
A medical marijuana web site (www.doh.wa.gov/medicalmarijuana) is available on-line to keep people informed on the rules process and it provides the schedule for the public hearings.