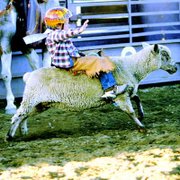 GRANDVIEW - It's official: the 2007 PRCA Rodeo results from the Yakima Valley Fair and Rodeo have been announced.
The event took place this past weekend in Grandview, with cowboys from Oregon, Idaho, Texas, Arizona and Washington competing.
Best All Around Cowboy honors went to Ben Londo of Pendleton, who won $874 from the bareback and saddle bronc events.
Londo placed second in bareback to Eric Mader of Cottonwood, Idaho. Mader took home a $543 purse from the event, Londo took home $418 and third place finisher Brandon Martin of North Powder, Ore. took home $292.
Hermiston's Brad Goodrich placed first in tie-down roping, clocking in at 8.2 seconds for a $950 purse. Shane Erickson of Terrebonne, Ore. placed second in 8.9 seconds for $712. Clay Schricker of Adrian, Ore. finished third in 9.1 seconds for $475 and Brian West of Oak Harbor, Wa. finished in fourth place in 9.8 seconds for $237.
Prosser's Jeb Knox finished first in saddle bronc riding with 77 points, earning a $608 purse. Londo finished second with 76 points, earning a $456 purse. Dusty Otley of Adel, Ore. took home a $304 purse with his third place finish with 75 points, and Rowdy Rathmell of Wills Point, Texas finished fourth with 72 points, garnering a $152 purse.
Trevor Knowles of Mount Vernon, Ore. wrestled a steer in 4.2 seconds for a first place purse of $931. Travis Carnine of Stanfield, Ore. finished second with a time of 4.6 seconds, winning $698. Pasco's Chance Gartner placed third, wrestling the steer in 4.8 seconds and winning $465. Carl Seiders of Adrian, Ore. finished fourth in 5.4 seconds, winning a $232 purse.
In team roping, Shain Sproul of Benson, Ari. and Boogie Ray of Mabank, Texas finished first in 5.2 seconds. Each man took home $703 in purse money. Brett Hale of Tenino, Wa. and Taylor White of Prosser placed second in 6.8 seconds, each took home $527. Yakima's Willy Hart and Dave Inman of Spokane finished third in 7 seconds, and split the purse money of $753. Howdy McGinn of North Powder and Bill Justus of Haines, Ore. finished in 7.1 seconds, placing fourth and taking home $175 each.
Yakima's Jayna Kent-Isaac took first place in barrel racing, clocking in at 14.89 seconds for a $622 purse. Pendleton's Debbie Stahl placed second in 15.15 seconds for $541. Randy Rae Britt of Echo, Ore. finished third in 15.17 seconds for $460. Kelli Jo Hammack of Redmond, Ore. placed fourth for $379 in 15.27 seconds. Kelli Kamm of Stanfield, Ore. and Barb West of Oak Harbor tied for fifth in 15.30 seconds for $257 each; Jordan Crossley of Hermiston placed seventh in 15.32 for a $135 purse; Kelli Currin of Dayton finished eighth in 15.33 seconds for $54.
J.C. Bean of Goldendale set a new arena record in bull riding, garnering 88 points and winning a $265 purse in the first go-round. Marcus Michaelis of Caldwell, Idaho placed second with 78 points, winning a $217 purse.
In the second go-round with no qualified rides the following participants each earned $96.58: Justin Clark of Portland, Ore., Adam Hollenbeck of Prosser, Dustin Smith of St. Paul, Ore., Tyler Gorham of White Cone, Ari. and Clint Johnson of Hines, Ore.