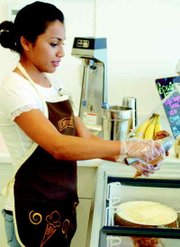 It's fair to say that 2006 Grandview High grad Felisha Cruz has the coolest job around, literally, as a customer service employee for the Cold Cow Creamery ice cream shop in Sunnyside.
So it can make it pretty tough to want to leave the job site when the work day ends.
"There are some days when it's so hot outside that when I open the door to leave it's like a rush of heat hitting you," she says. "It makes me wish I didn't have to leave!"
But there is life outside the ice creamery for Cruz, who attends the YVCC Grandview campus and plans to be a dental hygienist.
She's been working at the Cold Cow Creamery, located in the mall in front of Wal-Mart, for just over a year now.
Cruz says working with the customers is her favorite part of the job. Then, of course, there's the ice cream.
"Peanut butter cup is my favorite," she smiled. A favorite with many customers, she added, is a Starbucks mud pie laced with the Seattle-based company's trademark espresso.
Cruz said the shop's large banana splits and sundaes are also popular with the ice cream public.
Not surprisingly, there's more business in the hot summer for cool ice cream. She said the store keeps especially busy on summer weekends.
That leads to what Cruz calls the most challenging aspect of her job, handing numerous ice cream orders at once, both at the cash register and in dishing up the ice cream treats.
"It can be difficult if we have a rush and I'm the only one here to ring them up," she said. "I want to make sure and keep all the customers happy."
Besides keeping her cool during a summer swelter, dishing out the hard packed ice cream provides an additional side benefit for Cruz.
"People tell me I must be building up some muscles in scooping up all that ice cream," she laughs.