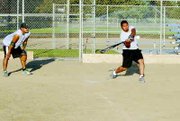 The Lower Valley Men's Slowpitch Softball Association held its annual home run derby and skills contest Tuesday night, a precursor to the All-Star game to be held tonight (Wednesday).
Several players in the league turned out to test themselves in the home run derby, a base running competition and a throwing contest.
In the home run derby, several players were able to get two home runs in their five at-bats and it looked as there might be a playoff to decide the winner until Dave Palomarez from the G-Squad team stepped up and blasted four home runs to walk away with the title.
Brown Sox/Bud Light player Andy Carrizales ran away from the field in the base running competition with a time of 12.1 seconds. His closet competitor was Wild Boyz player Raul Mendoza, who ran the bases in 12.81 seconds.
In the throwing contest, players tried to hit a garbage can placed on home plate from approximately 280 feet. Three players, Demolition's Dave Kleinow, Safari's Fidel Castro Jr. and Palomarez each were able to hit the can for one point. In the playoff that ensued, Palomarez actually put the ball in the can to take his second title of the night.
The men's softball league will end its season tonight (Wednesday) with the annual All-Star game, played to honor former softball players who have passed away.
The game will start at 6:15 p.m. in Sunnyview Park.