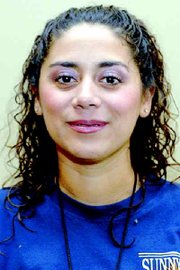 An employee for the city of Sunnyside for the last eight years, Sandra Medrano was promoted to the position of recreation department coordinator when Joan Niemeyer stepped down this week after 22 and one-half years with the city.
Niemeyer said she was thinking of retiring two years ago but decided to stay on to help with the transition after former coordinator Tom Byers left and the city took over the community center in town.
"Joan helped us with the transition and stepped in and kept us on an even footing," Sunnyside City Manager Bob Stockwell said. "She's done excellent work for the city over those years and has been a solid worker."
Medrano has been with various departments during her eight years with the city, including the police and building departments. The 29-year-old employee said she has been with the recreation department for nearly two and one-half years.
Medrano said she enjoys working in this department.
"You get to work with a wide range of age groups," she explained.
She said she is hoping to bring in some different programs to the community center and is open to suggestions from the public.
Niemeyer recalled when she first started with the city the recreation department was housed in a closet in the old city hall building.
"This department has gone from rags to riches," she said. "The community has really developed the department into what it is today."
Niemeyer couldn't pick a favorite thing about her job, saying the position had so many elements to it that were interesting. She did say she is looking forward to retirement and the grape harvest coming up. She said she is also looking forward to making a trip to Alaska by car.