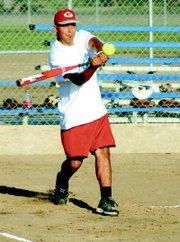 The Lower Valley Men's Slowpitch Softball Association held its annual all-star game last night, Wednesday, at Sunnyview Park.
The American all-star side got out to a 7-0 first-inning lead and never looked back in a convincing 28-15 win over the National all-star team.
The Americans' hit parade started from the get-go, as the first seven batters reached base. Most of the damage was done by a three-run homer from pitcher O.J. Ramos and a two-run shot by Dave Klienow. For the game, the American team collected six home runs.
Ramos had a 5-for-7 day at the plate for the Americans with seven RBI, while teammate Brad Baker was 5-for-7 with two RBI. American lead-off hitter Bob Garza was 4-for-6 and scored four runs.
Chris Longoria was named the Americans' MVP, collecting five hits in six trips to the plate good for four RBI.
For the National team, the game may have gotten away from them early, but the squad still found some punch late in the contest to make things a bit closer.
Trailing 26-10 heading into the bottom of the eighth, the Nationals had their most productive frame in scoring five runs.
George Rodriguez got things started in the home half of the eighth for the Nationals by knocking a solo homer. With two outs, the National team collected four more runs on two-run homers by Dave Palomarez and Chato Pedroza.
The Nationals collected seven home runs for the contest, three of them by Palomarez as part of his 4-for-5, five RBI, day at the plate. Palomarez capped his hitting performance by pitching two innings of relief.
Chato Pedroza was 3-for-4 with five RBI and two home runs for the contest.
The National MVP for the game was Ace Pedroza with a perfect 4-for-4 performance at the dish and two RBI.
Starting pitcher Jeff Jensen and Casey Jensen were both 3-for-5 at the plate.
Bob Sarmiento Sr. heads up the slowpitch association and said the all-star contest "went great". He added, "Everything was positive, everybody had fun."
The evening wasn't about celebrating the association's best players, but about remembering the past as prior to the all-star contest the names of former players now deceased were read aloud. A moment of silence was also held.
Looking ahead, Sarmiento said the association still has three tourneys left on the softball calendar: a Chicano-Latino tourney Aug. 25-26, the Northwest Latino championship Sept. 8-9 and the Sunshine Days tourney. All three will be played at Sunnyview Park.
More like this story