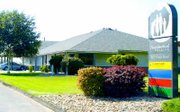 Work on a new dental office in Neighborhood Community Health's facility at 617 Scoon Road topped Sunnyside building starts permitted in July. The office is valued at $250,000 and the city coffers received just over $3,000 in permit fees for the project.
A plan has been in the works to install a dental office at the clinic, which opened at the Scoon Road location nearly two years ago. Work began on pouring the concrete about a week ago.
When completed, the dental office will feature a permanent, full-time dentist to provide services.
Another significant project permitted in July was a plan to re-roof a transportation center for the Sunnyside School District at 1801 E. Edison Ave. The project is valued at $50,000 and resulted in nearly $650 in permit fees for the city of Sunnyside.
City officials issued a total of 282 permits in July, 220 of them related to code enforcement issues. A distant second was re-roof permits, which totaled nine for the month. There were also eight commercial and eight public works permits issued.
Though the pace of building starts in July was down from previous months, it is similar to activity from last July.
The bulk of the permit fees received last month was from projects related to public works ($9,033) and commercial ventures ($5,193). During that same time in 2006, residential ($11,777) and remodel ($6,009) projects led the way in permit fee receipts.
The city received a total of $21,424.78 in permit fees for July of this year, compared to $29,718 during July 2006. The number of permits issued last month was up slightly from the 263 issued during July 2006.
In year-to-date activity, the city of Sunnyside has issued 2,051 permits generating $189,563 in permit fees.