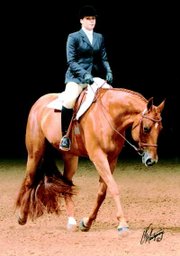 2007 Sunnyside High grad Rachelle Durfey made her mark earlier this month by placing among the top 20 out of 117 competitors during the 2007 American Quarterhorse Youth World Show.
Durfey earned her top-20 showing in the hunt seat equitation event, in which judges evaluate the rider's ability to handle the horse using only voice and leg commands.
The competition was held in Fort Worth, Texas, and concluded last weekend.
This was the second go-round at worlds for Durfey and her horse, It's Only Natural. Last year she said she placed right around the middle of the pack and attributes her improved standing this year to "more time in the show pen".
Durfey and her horse competed in several events over the past year, including stops in Las Vegas, Nev. and Medford, Ore.
"Every other weekend I practice on the horse," she said of trips to Monroe, where her horse is stabled. Durfey also credited horse trainers Mike and May Edwards, where she stays on the weekends when she trains with It's Only Natural. "They're like a second family," Durfey says.
The quarterhorse show circuit is among the toughest, Durfey notes, which is what attracts her to the sport.
"It is one of the hardest," she said of quarterhorse competition. Durfey noted that some of her competitors have been riding quarterhorses in competitive shows since they were seven years old.
In her two years at the world show, Durfey said she has gained an appreciation for how all the different types of riding are connected.
Though her high school career is behind her, Durfey plans to continue riding when she attends Western Washington University this fall.
The move will bring her closer to her horse, plus Durfey says she still has a year of eligibility with the American Quarterhorse Youth World Show.
She plans to compete again in 2008.
.