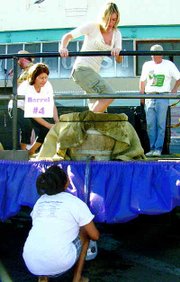 GRANDVIEW - Lower Valley residents and business owners are invited to some icky, sticky grape stomping fun during the second annual Great Grandview Grape Stomp, slated to take place on Sept. 15, Saturday, at 1 p.m.
Elizabeth Alba, who is organizing the event, said that this year promises to be even bigger and better than it was last year.
"Last year, we had 20 teams available and 17 teams that participated," Alba said.
Thanks to some changes, the event will feature even more team availability.
Last year, the event took place in downtown Grandview at the intersection of Division and Second Street. This year, Alba said, the event will take place at the Yakima Valley Community College Grandview campus at the Workforce Center, which will house a vineyard and technology program.
Wine tasting is making its debut this year during the Stomp in the tasting room of YVCC's facility and Tucker Cellars and Cowan Vineyards will be pouring.
Due to the switch in locations, there is room this year for 48 teams, as well as 27 food and craft vendors, Alba said, adding that there will also be a bouncing castle for kids and plenty of spectator shade.
This year, the jazz band "Private Reserve" will provide entertainment while also serving as emcee.
Tours of YVCC's Workforce Center will also be available during the event.
"The Stomp itself is a tremendous amount of fun just to watch," Alba said. "Teams of three take turns cheering each other on, stomping and capturing the juice squished out by bare feet through a spigot in the barrel.
"Last year, it got really competitive. And the spectators loved cheering the stompers on," she said.
This year, there are three categories. The corporate category is for businesses wishing to participate. The grand prize for this event is the Corporate Cup, a huge traveling trophy that goes to the winning business. The trophy is currently housed at R.E. Powell Distributing, last year's victors.
R.E. Powell employee Coralea Farris-Pickett said of last year's event, "It was just a bunch of fun in the sun. It really was." Will she and her teammates return for this year's event to defend the cup? "Most definitely," she said. "The whole team!"
Each team member stomps for one minute. Said Farris-Pickett gleefully, "And a minute is one long, darn time!"
There is also a category for adults and a category for children 18 and under. Alba said she's had some families call and query about the age limit for children. Toddlers are welcome, she said, and parents will be allowed to prop them up, so they don't slip and fall.
Service groups are encouraged to see who can stomp out the most juice, too.
After the first round, the top teams who've stomped out the most grape juice move on to the championship round where the juice weight will determine the victor.
There will be prizes for each team member that wins in their category.
Registration is $30 per team, which includes a commemorative t-shirt. Registrations are due no later than Sept. 4.
Registrations are available online at www.grandview.wa.us or at Grandview City Hall and the Grandview Chamber of Commerce.
Sponsors and vendors are still being sought for the event.
For more information, contact Alba at 509-643-1142.
.