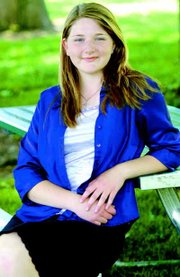 Antassia Hammond is bound and determined to be a role model for young girls. That's the motivating factor behind her run for the title of 2007-08 Miss Sunnyside.
Hammond says she wants to show girls that "they can be whatever they want, as long as they put their mind to it...regardless of social standing or family finances."
Hammond's rule of thumb that she'd like to share? "Just be yourself. People can tell when other people are being fake."
Hammond said she'd also like to share the importance of responsibility with the younger crowd, especially when it comes to holding the Miss Sunnyside title. "You have to be there for events. You can't just skip out. It doesn't reflect well on the community," she said.
If selected as Miss Sunnyside, Hammond wants to work with the Sunnyside Police Department, helping to promote gang awareness and education and helping to develop summer programs for kids. Hammond worked with the local police department this year during their CSI summer camp for kids.
Hammond's got a passion for justice and has applied to the Sunnyside Police Explorers program. She has also laid out extensive plans for her college education.
First, she says, she's planning to go to trade school and get a job, likely in massage therapy. While working in that field, she's going to earn money to go to university to pursue Master's degrees in chemistry and law and justice. Her end goal? To become a criminal pathologist.
"I've been wanting to do that ever since I was in sixth grade," she said.
Naturally, her favorite high school classes are chemistry, law and justice and orchestra.
For the talent portion of the pageant, Hammond will play "Chanson" on her viola. But musically, she's not limited to just the viola.
"I love music. I play eight or nine instruments, I can never keep count. But the viola's my favorite."
Among her favorite instruments is the African blowing instrument called a didgeridoo. Hammond fashioned her own out of PVC pipe after visiting a fair in Oregon. "You cut the pipe to the desired length, heat it up and twist certain parts of it. The twists go wherever you put them so there's no worrying about how to make it."
She also plays percussion, though she says "not necessarily the drum set," the harmonica, piano, guitar, violin and cello.
In high school, she's involved in orchestra, quartet group, Young Life, drama and track.
She said she enjoys running and longs to hike more.
In her spare time, the Sunnyside High School student likes to read, sketch, paint, sing or, as she puts it, "Whatever I'm interested in and can get my hands on."
Hammond is the daughter of Mark Hammond of Sunnyside and Angel Dutan of Oregon. She is the granddaughter of Toni Hammond of Sunnyside.
Her sponsors for the Miss Sunnyside Pageant include Complete Therapy, B7 Engineering, Morris Floral and Gifts, the Booth family and the Mercer family.
. Lynda Jo Gross can be contacted at (509) 837-4500, or e-mail LGross@eaglenewspapers.com
Rod Smith/Daily Sun News
Antassia Hammond, the daughter of Mark Hammond of Sunnyside and Angel Dutan of Oregon and the granddaughter of Toni Hammond, will compete for the title of Miss Sunnyside next month.