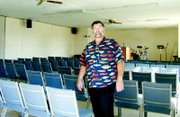 It is not as evident on the outside of the building, but the changes are obvious inside of Sunnyside's Life Church at the corner of East Grant Avenue and South 16th Street.
The church at one time housed a Four-Square congregation and later a Nazarene church held its services inside the building. Now, it is home of a non-denominational congregation known as Life Church.
The building dates back to 1965, according to the Yakima County Assessor's office.
Some of the original windows have been boarded up and much of the inside was showing age.
So, the "church family" began planning for renovations. Pastor Rowdy Ballard began his leadership with the church approximately a year-and-a-half ago, intending to "grow the church."
The congregation has been at the building for approximately 16 years and was formerly known as Celebration Christ Center, according to Ballard.
Growth of the church would be limited with the former set-up of the sanctuary, he stated, explaining, "The seating was a living room-style set-up with room for approximately 35 people."
What began as minor changes such as replacing carpeting grew into a larger project. The sanctuary's new set-up has room for 75 to 100 congregation members.
"We began laying ceramic tile in the high traffic areas and kept the carpet to lay under the seating areas," said Ballard.
The sanctuary is a month into the renovations and the evidence of transformation is apparent. One wall still has the remains of a line from the former platform. The current pulpit platform has yet to receive its carpeting and plywood sets the stage. Areas of paint have stopped at various locations around the sanctuary.
But, the improvements show and the room is taking on a comfortable feel.
"We also want to open up the wall where the platform used to be because there are windows boarded up behind the wall," Ballard explained.
He said the renovations have not been a burden on the church because of financial planning. The group has held a yard sale and will be raising more funds at a car wash tomorrow (Saturday) from 10 a.m. to 3 p.m. at the Dollar Tree on Yakima Valley Highway.
"Overall, we have been financially blessed," Ballard noted, explaining that tomorrow's car wash will be to help fund a new door and glue needed in the renovations.
"It has just involved a lot of labor," he added.
"But, we also want to host the car wash because we want the community to know who we are," Ballard commented.
He said he and his wife began their service to the members of Life Church with a 10-year plan. He said of that plan, "I feel we are ahead of schedule."
.