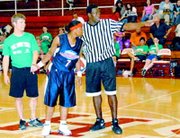 GRANDVIEW - A faded newspaper clipping has inspired an effort to bring some national basketball flash to Grandview this November.
The Harlem Ambassadors, sort of Globetrotters in training, will appear in Grandview on Saturday, Nov. 3, 2007, at the Grandview High School gym.
Beth Bourgeois is the director for the Grandview Chamber of Commerce and decided to bring the Ambassadors here as a fundraiser after reading a news clipping from 20 years ago when the team last visited the city.
"I'm always looking for new and inventive ways to bring events to the community," Bourgeois said. "I thought it would be a fun thing to have them here and have younger generations see what these guys can do with a basketball."
Bourgeois said the Ambassadors team provides players for the Harlem Globetrotters. The Ambassadors' opponents in Grandview will be a team made up of 20 local residents, each required to have a $150 sponsorship form a local business.
Bourgeois said the Grandview team will be called the Wine Country Warriors and noted that six of the players are already sponsored for the game. Each business that sponsors a player will have its name on the tickets, game uniforms, shirts and posters.
All players are guaranteed to be on the court for one quarter, and the $150 cost is tax-deductible.
Bourgeois said the fee for each player will cover the entire cost of transporting the Ambassadors to Grandview. All ticket sales, then, will directly benefit the chamber's programs for the city.
"It will benefit the Grandview Chamber of Commerce so we can continue to put on new and more exciting events for our community," Bourgeois said.
A local hotel has agreed to put up the team for free and plans are underway to work with local fast food restaurants to provide the cooking oil needed to operate their alternative-energy van.
Tickets for the game will be available next month. Children under two years of age will get in for free, students and senior tickets are $5 each and adults are $8 each for advanced purchase.
Day of game ticket prices are $7 for students and seniors, $10 for adults. A family pass will be available for $20.
Contact Bourgeois at the chamber, 882-2100, for information on ticket sale locations or to sponsor a player for the contest. Sponsored players must be at least 19 years of age.
The Harlem Ambassadors will stay after the game to provide free, autographed pictures to those in attendance.
"They'll sign autographs for ever how long it takes," Bourgeois said.