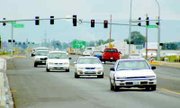 With a few exceptions, the infrastructure in the Lower Yakima Valley is in good shape.
In both Sunnyside and Grandview the cities' bridges were recently evaluated and given the thumbs up.
In Sunnyside that includes the Bridge Street bridge, which is just about a foot shy of being long enough for consideration as an official bridge for state grant programs. That means that though the bridge is in fine shape now, there will not be bridge grant monies to fix it if it ever needs upgraded, according to Sunnyside Public Works Director Jim Bridges.
Sunnyside's main concern at this time, Bridges added, is undersized water lines.
"It's more efficient for water systems to run through a wider loop," Bridges explained. As an example, he noted that two and four-inch lines off of Jackson Street, as well as areas between North and Yakima Avenues and west of 16th Street, need to be upgraded. Bridges said those upgrades need to include replacing cast iron water lines, to be upsized to eight-inch lines.
"The cast iron reacts with chemicals in the water to form a black sludge," Bridges said of the need to do away with the cast iron lines.
"The line is not in danger of breaking, but it needs to be replaced with 8-inch PVC pipe for water quality reasons," he said.
Bridges said funds for the water line upgrades will come out of the city's capital improvement budget in 2008 and 2009.
Also on the city's local improvement radar is the traffic signal at Lincoln Avenue and Yakima Valley Highway. Bridges said a loop detector buried under the roadway is about 15 years old, well outside the 10-year lifespan common for similar loops.
It's worn out and needs to be replaced, Bridges notes. Due to the age of the loop detector, traffic signals at the intersection can be inconsistent in duration.
"Sometimes the signal lasts three cars, other times it will last two-and-a-half minutes," said Bridges.
Bridges said he's hesitant to approach the state about funding the upgrades, since it has already helped with funding an $18.3 million treatment plant upgrade and provided a $4 million loan to develop wells and new water lines to feed into the city's water system.
That's not to say there aren't some areas where the legislature could help smooth the process in upgrading the city's infrastructure.
Bridges said help is needed from lawmakers in easing restrictions on municipal construction efforts. These include a cultural resources mandate approved by Governor Christine Gregoire that requires municipalities to be on the look out for artifacts when tearing up roadways by using archeological studies.
Another law Bridges described as difficult for new municipal projects is what he called an "environmental justice" state law that makes a local government first assess any impact on the culture or heritage of local minority groups before proceeding with a public improvement project.
Bridges says it took a full year to conduct the environmental and cultural studies on South First Street for a project in which the city plans to widen the roadway.
It would also be helpful for state agencies to have consistency in how it pays out grant monies.
Bridges noted, for example, that the state Department of Transportation handles all its payments electronically, and forwarded Sunnyside its grant money in a matter of three or four days as contractor bills came due.
The Department of Health, by contrast, handles everything via paperwork. Bridges said that meant contractor payments on the treatment plant were delayed at times by two months. There were times, he added, when Sunnyside actually had to borrow from its water fund to pay for the treatment plant bills until they could be refunded when the state grant monies arrived.
"If you're Sunnyside you don't have money in the bank to pay contractors if the state is slow to pay," Bridges said.
Since contractors can charge a half-percent interest when bills pile up, Bridges said it could cost the state even more money to fund projects, such as those in Sunnyside, by having to pay interest fees.
Sunnyside's efforts for electronic payment have not gone unnoticed by state agencies, as some officials have asked to use the city's electronic invoices as a template for other municipalities to use.
The state also tends to develop and implement its own software that often doesn't work with common Microsoft programs many municipalities use, Bridges says,
Bridges is hoping legislators can do their part in having all state departments utilize electronic payments and streamline that process with consistent software.
State Senator Jim Honeyford of Sunnyside hears Bridges' concerns. Legislators, he said, may be able to help in some areas.
"I do know that we've had agencies attempt to develop new computer programs," Honeyford observed. "They seem to fall behind in implementation and experience cost overruns."
Honeyford agrees that something needs to be done.
"I will have staff look into that," he says. "If they (state agencies) have programs that don't work with off-the-shelf programs, then there's something wrong."
As far as cultural and archeological research requirements, Honeyford said some of those laws are tied into federal grant programs, like those used for Sunnyside's South First Street expansion.
At the same time, Honeyford, a farmer, observed there are stringent state laws, such as those applying to wetlands, that can be frustrating. He noted the example of a farmer having to conduct costly studies just to install an irrigation circle on a farm that had been in the family for 100 years.
Honeyford's not sure what, if anything, can be done to address the Bridge Street bridge situation in Sunnyside, but said he'll look into it.
He's also not certain what can be done to address a concern expressed by Grandview Public Works Director Cus Arteaga, who would like to see road improvement monies divided more equally between east and west.
Specifically, Arteaga would like to see current street fund programs for cities with population 5,000 and under expanded a bit.
Grandview has a population of just over 8,000 people, and Arteaga said its street issues are not that much different than a town with a population of 4,000 or 5,000. Some main Grandview thoroughfares such as Division Street, for example, are in need of major work, Arteaga notes.
Honeyford noted, though, that the cities of 5,000 or less program is relatively new.
"In the last two or three years the legislature has done that and I'm not sure the legislature will expand it at this time," Honeyford said.
Arteaga's suggestion for east and west road funds may have more potential, says Honeyford.
"It's an interesting concept. I'll talk to our transportation people about that," Honeyford offered. ""I don't know whether it's a possibility or not, but we'll look into it."