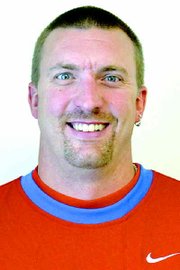 GRANDVIEW - Paul Van Pelt's earliest memories of basketball dates back to when he was just 10-years-old.
"I started playing AAU when I was in the fifth grade and I had to convince my parents to let me play," Van Pelt, the new hired head coach of the varsity girls basketball program at Grandview High School, said.
It wasn't easy. Van Pelt grew up on a dairy farm in Sunnyside and his parents were worried basketball might interfere with the family business. He said he had to lay the guilt trip on pretty thick before his parents finally relented.
He had played other sports at school, baseball at recess with his friends, but it was basketball that struck his fancy.
"My fifth grade year I wasn't very good," he admitted. "In sixth grade I got better and I also started to grow."
Van Pelt said he was 6-5 by the time he was in the seventh grade and hasn't grown an inch since.
When he played at Harrison Middle School in the seventh grade, he was joined by two other six-footers. They dominated, going 7-1 that year and 8-2 in his eighth grade year. He spent his freshman year on the JV team at Sunnyside High School and then was moved up to varsity for the remainder of his high school career, where he never averaged less than 15 points per game (PPG). His senior year he averaged better than 18 PPG.
"Kevin McKay was my coach then and I liked him very much," he said. "I learned a lot from him. He was very hands on, in your face."
Van Pelt admitted he was the kind of player that needed that, saying he didn't always give his all in practice.
"McKay pushed me to be a better player and a leader," he recalled.
Those lessons have stuck with Van Pelt, who still has the play book from his high school days and still references it to this day.
He used this experience when he was picked for a select Washington State All-Star team that played in a tournament in Belgium. His team did pretty well, according to Van Pelt, going 4-2 at the tournament.
He then came back to the states where he enrolled at Eastern Washington University and majored in reading K-12 while picking up his minor in coaching K-12. He has been with the Sunnyside School District since 2002 and is currently a physical education teacher at Harrison Middle School.
He coached the boys C squad at Sunnyside High School in 2002, spent 2003-05 as the freshman coach in Sunnyside and then took a job at Grandview High School as the freshman girls basketball coach in 2006. When former Grandview girls varsity coach Tarah Troutman left Grandview this summer, Van Pelt was hired to lead the girls program.
He's excited about his team's chances this year, noting he has three girls over six feet...Meghan Smasne, Raissa Licano and Kinzi Poteet, returning.
Conceding his has some big players, Van Pelt said he will play to his team's strengths, which will mean a lot of play down in the post. He's hoping his big girls up front will open the game up for his two guards, Anna George and Giovanni Gomez.
"It will be fun and exciting," he said of the 2007-08 season. "I think we will be very competitive."
He plans on making his practices more game-like this year, with lots of running and shooting during the scrimmages. Free throws have killed the Lady Greyhounds the past two seasons and he promised his girls will be shooting a lot of those during practice. After speeding up the tempo of practices during scrimmages, he said will make them shoot free throws while they're stressed, trying to imitate a game situation. This will all start Nov. 12, the day of the first practice.
Van Pelt is just excited to be a part of high school basketball.
"I like being around the young kids, being able to share my knowledge," he said. "It's a way to keep my youth and I get joy out of coaching for a victory."
.