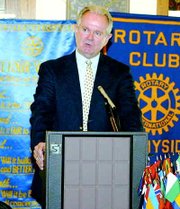 The issue, Sunnyside City Manager Bob Stockwell explained to the Sunnyside Noon Rotary Club Monday, is why should people put up with the issues that surround gangs.
"This is not something to be tolerated," Stockwell told the Rotarians.
He was speaking of the recent gang ordinance passed by the Sunnyside City Council making criminal gang activity illegal.
He said the situation in Sunnyside had almost gotten to a point where the people had taken on a hopeless point of view about the city's gang members. They had almost given up.
"Sunnyside is our community," he said. "It's a safe place and it has the capacity to continue on as being a wonderful place."
The city of Sunnyside is a town with 15,000 people, most of whom provide positive energy to the city. Stockwell said a group of individuals numbering less than 200 are causing most of the negative aspects in the community.
"When we give up, we turn over our community to less than 200 people," he told the Rotarians.
That's why the ground breaking gang ordinance was passed by the city council, taking a bold step and using one simple tool out of many to keep the Sunnyside community safe. Its effects have been immediate, he said.
Stockwell claimed teachers and school administrators have told him they've seen a big change since the ordinance passed. There has been a sense of empowerment that has swept over the city.
The students seem relieved as well, like a big burden has been lifted from them. They now don't have to try to think of excuses why they can't join a criminal gang, the city has provided one for them, said Stockwell.
"Our schools produce excellent students and we don't often talk about that," Stockwell said. "If we tell negative stories it will be that way. The stories we tell about ourself are what we will become."
He said Sunnyside is a good place for business and the retail sector is growing, noting the Big 5 sports store that will be built in Sunnyside soon.
"This will make a difference to other businesses," he added.
This new gang ordinance will help attract new businesses and show outside people Sunnyside means to keep its streets safe, he said.
Stockwell admitted there will be obstacles enforcing this new ordinance, noting the ACLU is waiting for the first case charging an individual with criminal gang activity.
But Stockwell said the city has looked at the case law where courts have ruled on gang ordinances and have tried to balance constitutional rights for individuals. He said those charged under the new ordinance must be tied to a crime, saying it's illegal to be in a criminal street gang, not a gang.
That's why the city's police force is going up to suspected gang members and talking to them, asking questions and compiling a database to try to identify the elements that will prove these individuals are in a criminal street gang.
"We will attempt to use this ordinance very carefully so if we make an arrest, the elements are there," he said.
Stockwell also said the city has asked Washington State's Attorney General to look at the ordinance and to make any recommendations if needed. The ordinance will constantly be fine tuned, he said.
He also said this new ordinance have empowered parents.
"It's a myth parents can't use corporal punishment," he added. "You can't abuse your kids but you can use punishment in parenting."
He said parents will be held civilly responsible if their kids are conducting gang activity in their houses. It will not be tolerated anymore, said Stockwell.
Stockwell encouraged the Rotarians and the citizens of Sunnyside to keep reporting what they see and to get involved.
"Watch your neighbor's house and call the police if you see something suspicious," he encouraged.
He also encouraged the club to reinvest in their community.
"We need folks in Sunnyside with disposable income to invest in Sunnyside, not other places," he said.
Stockwell said by investing in Sunnyside it will make the future of Sunnyside even brighter.