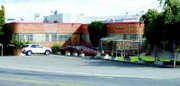 It didn't take long for the vacated Apex Cellars winery building in Sunnyside to be occupied.
A new winery took over the Sunnyside location at East Lincoln Avenue and South First Street.
The new winery operates under the business name of Cream Wine of Yakima, but the label name has yet to be determined, according to co-owner David O'Reilly.
He said employees of the winery are currently in the process of cleaning up the facility, and the company is looking at operating it as a custom crush facility until further plans can be realized.
"We have a lot of definite plans for the facility, but we have permits to obtain before we can open up a tasting room," said O'Reilly.
Many of the agencies the winery has been in contact with have been very helpful, he commented.
He is impressed with the Sunnyside community and appreciates the willingness of the agencies involved to work with his winery.
After gaining permits to operate the facility on a full-scale basis, the winery owner anticipates the creation of a new label.
However, O'Reilly and his partner, Jerry Owen, are not new to the industry.
They currently operate Owen Roe wines in Oregon with vineyards in the Willamette Valley, the Mid-Columbia, Yakima Valley and Walla Walla area.
The labels include O'Reilly's and Owen Roe.
O'Reilly is the wine maker in the venture. He is originally from Ireland and is particularly fond of "Old World" wine traditions. "We want our winery to have an 'Old World' feel," O'Reilly said.
Owen works with the vineyards and believes grapes grown and cultivated in the Pacific Northwest are second to none.
Together, the partnership brings forth quality wines, said the two men.
The winery has signed a lease through June of 2008. O'Reilly is hoping the facility will be fully operational by that time, including the tasting room.