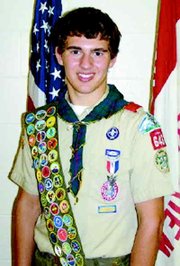 GRANDVIEW - It's official: David Matthew Tobin of Benton City is the latest Boy Scout to earn the organization's highest rank--that of Eagle Scout.
Tobin, the son of David and Cynthia Tobin, is a member of Boy Scout Troop 643, which is Grandview's oldest continuously operating community troop, which is chartered to Bethany Presbyterian Church.
Tobin was presented with the Boy Scout award this past Saturday at the Presbyterian church.
In order to receive the ranking, Tobin had to complete a service project. Tobin's project benefited Kiona-Benton Middle School, where he installed a new flag pole to honor area veterans.
Tobin has been a member of Boy Scout Troop 643 for nearly four years. He has earned 47 merit badges so far in scouting, 21 of which are needed to attain the rank of Eagle Scout.
In addition to his merit badge achievement, Tobin has earned several awards during his scouting experience, including religious recognition through God and Family, God and Church and God and Life awards.
During his ceremony Saturday, Curt Nealan of Sunnyside delivered the Trail to Eagle presentation. Brian Wells of Toppenish, the Chief Kamiakin District Advancement Committee Chairman, presented the recognition to the troop, while Grandview Scoutmaster Jim Davidson presented the award to Tobin. Keith Dorsey presented the Eagle pledge and Tim Bardell of Sunnyside, Assistant Scoutmaster for Troop 643, delivered the Eagle Charge.
Past Council President of the Grand Columbia Council of the Boy Scouts, Nancy Davidson, officiated the ceremony.