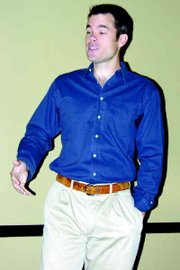 The Washington State University Extension Services center in Prosser has been studying different growing methods for cherry orchards, according to Matt Whiting, who spoke at Sunnyside Daybreak Rotary Club's Wednesday morning meeting.
He said the research being conducted at the extension service's 35-acre cherry orchards includes more than 70 varieties of cherries.
The more important projects being performed by WSU researchers include yield, quality, rootstalk evaluations, high efficiency orchard systems, mechanizing harvest, planting systems, genomics and the cause and prevention of pistil doubling.
Because of the increasing need for laborers in the agriculture industry and the fact that cherries are considered the most labor-intensive crop, Whiting said WSU research is geared toward improving crop efficiency.
"Our vision is to produce highly efficient, precocious, productive and high quality crops," he stated.
The researchers at WSU are focused on orchard systems, combining effective architecture and crop load management.
Whiting said the evaluations performed are studies in mechanical harvest methods and consumer preference.
To minimize management and improve efficiency in crops, WSU researchers are taking the approach of utilizing the architecture of orchards as an art.
Whiting said one concept being studied at the extension services is the utilization of vertical fruiting uprights for effective pruning.
The strategies include systematic aggressive dormant heading, eliminating "old wood," growing trees in upright walls and heading them below wires.
Overall, the methods are showing promising results.
One vertical growing method system presented to the Sunnyside Daybreak Rotary Club members was the planting of rootstalks at a 45-degree angle. The plants are grown four feet from one another and buds are removed from the underside as the stalk is tied to a wire system. Vertical growth is promoted by this system and the plant is pruned in such a way as to encourage that endeavor.
Whiting also said mechanical harvesting systems being studied by researchers are helping to produce quality "open market" fruit.
The mechanical harvesters designed for fruiting walls currently being studied are operated on each side of a fruit wall. They are angled harvesters and the labor needed to harvest an orchard is reduced to an average of two-and-a-half persons (one for each harvester).
The harvester traverses along each side of a fruit wall, a mechanical arm shakes the tree, the fruit falls onto a conveyor and is deposited into a bin.
"This method harvests stem-free fruit," said Whiting.
He said that studies have shown consumer acceptance of stem-free cherries is higher in preference. He added that the studies also show consumer approval rose after the fruit was tasted.
Another benefit of the mechanical harvester, according to Whiting, is less damage to the fruit.
Whiting said the research is ongoing but the results have been promising.