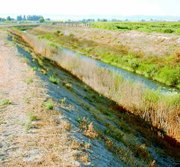 The Sulphur Creek Wasteway, part of which courses through Sunnyside, has been on the Department of Ecology's radar for more than 30 years.
Now it's next on the state's list of waterways to clean up.
At issue for Sulphur Creek, originally created as a way to return irrigation water run-off back to the Yakima River, is high levels of fecal coliform bacteria in a lower portion of the wasteway.
Gregory Bohn of DOE's Yakima office has begun an effort to locate the source or sources and come up with a remedy.
"It's a combination of both animals as well as a source in the geographic area of Sunnyside and the Port of Sunnyside," Bohn said.
He believes the second source is likely treated commercial or industrial wastewater that contains a nutrient that is feeding the coliform.
Amber Hansen is the Port of Sunnyside's manager, and she feels the effort to remedy the wasteway will not impact the port.
She said the port and the commercial clients who use its wastewater system have to meet strict requirements.
Rick Van de Graaf manages Van de Graaf Ranches and said the only thing they put in the wasteway is clean water from trough overflow.
Bohn also headed up an effort to clean up the Granger Drain. He said similar measures may be required here, such as asking farmers to have a settlement pond or barrier so that water from cattle fields do not go directly into the wasteway.
Or, the city of Sunnyside may be encouraged to see if there are any leaks in its wastewater system. Further, Bohn said there may be an effort to have the city inspect to see if any users are illegally dumping sewage into the stormwater system.
The Port of Sunnyside may be asked to look at its pipeline system as well, to see if there any cracks in its wastewater process.
"We're not trying to make it a hardship, we just need to identify the source," Bohn said.
An initial meeting has been set up for Monday, Oct. 1, from 1 to 5 p.m. at the Sunnyside Valley Irrigation District's boardroom, 120 S. 11th St., in Sunnyside.
Bohn is encouraging the public to attend the meeting, especially those with operations along the Sulphur Creek Wasteway.
In the meantime, Bohn said work will continue to find the source of the fecal contaminant in the wasteway system. That will include wastewater samples from the wasteway, as well as from the Port of Sunnyside and city of Sunnyside.
"We'll do more sampling of individual entities," he said of identifying the cause of the wasteway's woes. "It's like panning for gold, we've found something and we'll just work back upstream to find the source."