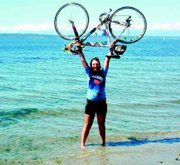 Six intertubes, 14 states, one cassette (a group of sprockets) and 3,667 miles later, Sunnyside's Brianne Downing is now home.
Downing spent the last two months biking across the northern United States with the non-profit group Bike and Build, stopping along the way to help build houses, mostly with Habitat for Humanity.
She presented highlights of the 10-week trek to a group of supporters in Sunnyside last night.
Downing, as well as each of the other 29 other young riders, had to raise $4,000 to be able to participate in the trip, which started in Rhode Island in June. The group rode several miles a day and then stopped for a few days to help work on housing projects. Sometimes the group would ride 100 miles in a single day.
Along the way Downing made friends with her fellow riders, forged friendships with people she helped and became thoroughly sick of peanut butter and jelly sandwiches, a staple of food the riders would eat on the trip.
"One of the most awesome parts of the trip was meeting people in Cedar Rapids, Iowa," she said, explaining they were political refugees from Sierra Leone.
Downing said she met a former prince of the war-torn country who had lost most of his relatives in the conflict. He escaped with his wife to the United States and even though he was a doctor, the man had nothing. Downing said by losing everything, especially his house, the man felt he had lost all of his dignity.
"Being able to build his own house, he was able to regain some of his dignity," she said.
That was important to him, as well as to Downing.
Downing also said she enjoyed meeting and then helping all of the homeowners on the trip.
The 10-week trip was grueling at times. The set of sprockets on the back wheel is known as a cassette, something she had to replace once along the way. Instead of tossing the broken down parts, Downing got creative and made earrings out of them.
She also went through six intertubes for her tires.
She said her biggest accomplishment on the trip was navigating Teton Pass, a five-mile trip with a 10 percent grade. On the way down the pass she said she reached a top speed of 51.7 mph.
She said she lost 10 pounds on the trip and toned up her body quite a bit.
"I now have muscles in places I didn't know I could," she joked. "My clothes are fitting a lot better now."
Downing also said she learned a lot about Americans on the 10-week trip.
"People in America aren't as self-centered as people think they are," she said. "They are a lot more generous than they're given credit for."
She said people took care of them when they would stop for the night. They would feed them and then send them off with food the next day.
"It restored my faith in people," she claimed.
All-in-all, the group worked on nine projects during the trip, mostly with Habitat for Humanity. She finished her ride Aug. 3 at Golden Gardens in Ballard.
The most difficult part for Downing wasn't the three mountain passes she climbed or the two days she spent riding in the van when she and others fell sick. For her it was saying good-bye to her 29 fellow riders she got to know over the 10 weeks.
"Seeing everybody go was hard," she said.
There has been talk of a reunion tour in a couple of years. Until then, Downing will continue her studies at the University of Washington, where she is studying comparative history of ideas. She'll also spend her spare time browsing through the more than 600 pictures she took on the trip.