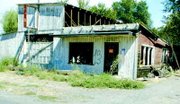 OUTLOOK - An old abandoned building located at 41 First Avenue in Outlook that used to house the former Timmerman Lumber Company is now being torn down. Old time residents of Outlook have said the building has been there since the 1930s.
The building is currently owned by LeMay Enterprises of Tacoma, bought by the owner to store vintage cars on the property. After his death in 2001, the building had remained empty.
Soon after, however, area gangs started to use the building as a hangout.
"It's a big building," Lt. Max James of the Yakima County Sheriff's Department said. "It's hidden from view where people can do bad things."
Someone purchased property next to the old building and James said that property owner had been burglarized once and their property vandalized.
"We had complaints of people congregating at the property and several stolen vehicles had been recovered from the property," James added.
Mike Dennett, general manager of the property division for LeMay Enterprises, said the company was unaware of the gang issues surrounding the building. After being contacted by a TV reporter from Yakima about the problem, Dennett said he contacted the Yakima County Sheriff's Department to gauge the situation.
Meanwhile, the sheriff's department contacted the Yakima County Code Enforcement Department and code enforcement officer John Walkenhauer went to the location to investigate. What he saw were several violations.
"The building was abandoned and unsecured," Walkenhauer said. "It was a nuisance according to the International Maintenance Property Code and a dangerous building."
Walkenhauer said the building was unsafe for children and could be used to harbor vagrants or criminals.
A notice was put up on the building stating what could be done to rectify the situation, including tearing the building down or fixing it up.
The owners of the building were contacted and Walkenhauer said they were very understanding and very cooperative.
Dennett and officials at LeMay visited the site and saw the condition of the building with all of the graffiti and gang markings. As a result, LeMay officials decided to tear down the building.
"It's absolutely disturbing to have the graffiti and other gang-related issues on the (Outlook) property," Dennett said. "Whatever we can do to help with the gang problem, we want to do...We don't wish to be a contributor (to the problem)."
Lions Den Construction, Inc. is tearing down the building. Supervisor Willy Olsen said his crew started Aug. 13 and expects to be finished within six weeks. The crew is trying to salvage as much lumber as possible for re-sale.
"It's going good," Olsen said of the demolition.