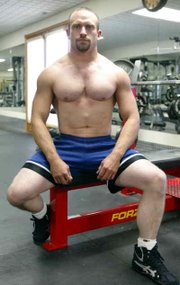 OUTLOOK - Known as the 'Benching Machine' in certain circles, Outlook's Joe Luther will compete at the Convention Center in Las Vegas, Friday, Sept. 28, and attempt to retain his title of Mr. Olympia in the bench press.
Luther competes in the lightweight division (175 lbs. and under) and his toughest competition will be from rivals Joe Mazza and Ray Hickman.
At last year's Kings of the Bench competition, Luther and Mazza tied at 420 lbs. but Luther edged Mazza in a rep-off, where each benched 225 lbs. as many times as they could. Mazza did 29 reps and Luther did 30. Because the weights weren't secured properly for Mazza, they started to slide off and officials had to stop Mazza's lift to fix the weights. Because of this, Luther decided to share the rep-off title with Mazza.
The Sept. 28 bench press competition will be a raw one, which means competitors can not wear a bench shirt. The bench shirt gives the individual more support and allows the competitor to lift heavier weights.
Both Mazza and Hickman have been quoted in Body Talk magazine saying Luther has the most experience in the Raw competitions but both will be gunning for him. That's something that suits Luther just fine.
"Joe Mazza will be my biggest competition," Luther said. "Ray Hickman has been talked up but I've never seen him bench raw before."
Luther trained a bit differently this year for the competition in Las Vegas. He did more repetitions, calling it a burn-out. He would lift 225 lbs. as many times as he could.
"I'm going back to my old style," he said. "It's too close to the meet and I haven't seen any progress."
The most Luther has ever benched is 430 lbs., but that was in practice, not a competition. He's been able to bench 495 lbs. with a bench shirt.
There are two more slots in the Mr. Olympia competition but Luther is unaware of who will fill those spots. He does say he will be the only natural lifter there, claiming the others are juiced up, using steroids and growth hormones.
Those are things Luther refuses to do.
"I want to be around till I'm 80 years old," he said. "I don't want my body breaking down."
Luther is sponsored by O.L. Luther Company and Anderson Power Lifting, which oddly enough makes bench press shirts.
He's not predicting anything for the coming competition, he just wants to make sure he gets three good lifts and performs to the best of his ability. But he still wants to win.
"I just want to do better than last year," he said. "I would really like to beat these guys, just to prove I can. I want to be the best bench presser in the lightweight division."