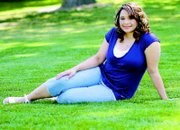 Janelle Mendoza knows how important it is to be a good role model. After all, she's big sister to Jacob, 9, and Jolissa, 7. And, if she's selected to serve as Miss Sunnyside, she knows being a role model out in the community is equally important as well.
She's been babysitting her siblings since they were born and she's acutely aware of how important it is to be responsible.
"My decisions influence them and I have to be more concerned about what I do because I don't want them to make any decisions that just aren't right," said Mendoza.
Knowing she'd make a good role model wasn't the only deciding factor when running for Miss Sunnyside.
"I think it will help me with my public speaking skills. It will give me a chance to better my interview skills and help me meet people in the community," said Mendoza. Plus, she adds, there are scholarship opportunities associated with the program.
Originally, Mendoza had planned to do a Shakespearean monologue for the talent portion of the pageant program come mid-September. But after some encouragement from her former drama teacher, she selected a scene from "A Chorus Line," which she describes as "more showy, more entertaining" than Shakespeare.
The piece will include acting, singing and tap dancing. She and her family, including parents David and Olivia Mendoza, are all members of their church's choir. But when it comes to tap dancing, she has no formal training. "I haven't really done very technical tap dancing at all," she said.
"I wanted to challenge myself and not stick to just acting or just dancing."
Mendoza has participated in drama at Sunnyside High School since she was a freshman. She plans on trying out for the next drama production in the fall, but is waiting to see if it will conflict with her volleyball schedule.
Mendoza's been playing volleyball for a long time. "I think I started in the sixth grade with parks and recreation, but I've been playing with my family since I was a little girl."
She also participates in Club Volleyball, which provides year-round games.
If selected as Miss Sunnyside, Mendoza for her community service project plans to work with a group called Kids on the Block, which visits classrooms and daycares performing puppet shows that teach life lessons.
It's easy to see why she's eager to work with young children. "I want to be working with kids because of my brother and sister," she said, adding that the scripts used by the Kids on the Block group are wonderfully written. "It's important to teach kids these lessons early so they'll be enforced later on in life," she said.
Mendoza plans to attend either WSU, UCLA or USC and is currently leaning toward either fashion design or journalism.
Mendoza said the best part about living in Sunnyside is the people that live here. "They make the town what it is."
Mendoza's sponsors for this year's pageant include Fashion Corner, Daily Buzz, Grandview Medical Center, Aztlan Sportswear, C. Speck Motors and Tom Denchel's Ford Country.