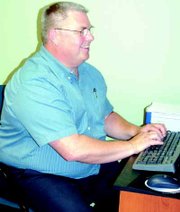 For the past eight years, Paul Jepson's job has been to help people "put their lives back together" when recovering from drug and alcohol abuse.
Jepson, who works for Merit Resource Services as a chemical dependency professional, previously worked for four years as an intervention specialist for the Mabton School District. Currently, funding for the position for the 2007-08 school year is in question.
His clients, if his service in the schools is taken into account, are typically age 13 and older.
When it comes to working with kids, he said the objective is still the same. Oftentimes, he said, there's a different level of motivation for kids to seek help than for adults.
"In many cases, they haven't reached 'the bottom'," Jepson said. "Unlike many adults who have."
Kids who need help often have problems in school, trouble with the law, or, like adults, family problems at home.
Merit Resource Services provides out-patient treatment for those afflicted with drug and alcohol problems. Jepson said that he typically stays in contact with clients anywhere from six to 12 months during the treatment process.
He said that Merit takes a "whole person" approach when dealing with its clients; he acknowledged that, typically, the person seeking help is needing help in other aspects of his or her life as well.
The "whole person" approach Jepson speaks of means counselors working together collaboratively with medical professionals and mental health professionals when needed.
"We attempt to help them find ways to put the pieces (of their lives) back together and encourage them to be active in a recovery community, like Alcoholics Anonymous or Narcotics Anonymous (once treatment is complete)."
He said one of the biggest challenges when helping a client is helping him or her change old patterns of behavior. His biggest challenge, he said, "Is being very careful not to want recovery for the client, versus them wanting it for themselves."
Jepson said that at Merit, alcoholism and drug addiction are seen as a disease, not a moral decision and that Merit sees the afflictions as a "bio-psycho-social" disease.
In addition to working as intervention specialist and counselor, Jepson also teaches an alcohol and drug information class on Saturdays, which lasts about eight hours and is more often than not meant for people who've had a police citation or who've been ordered to attend by the courts.
Of the class, Jepson said, "It's a good thing, a good, general overview of alcohol or drug dependency as a disease and not only how it can affect (the individual), but the families as well."
Lynda Jo Gross/Daily Sun News
Paul Jepson, a chemical dependency professional with Merit Resource Services in Sunnyside, works on his computer. Jepson has worked for the past four years as an intervention specialist in the Mabton School District but funding for the 2007-08 school year is still in question. Jepson works with clients from the age of 13 on up.