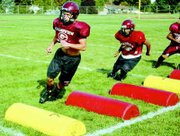 GRANDVIEW - "Linemen don't smile!" Grandview football Coach Dustin Lamb bellowed at his o-line as he worked them through their paces last week. "They're mad. The only time their name gets called is when they hold."
Lamb has good reason for stirring up play in the trenches, as the Greyhounds do not return any starters on the line for the 2007 campaign.
Last season's 2-8 campaign, Lamb adds, was a struggle in part because the line could not get the defensive stops on short yardage plays, or on offense provide the extra push needed in goal line situations. "We were athletic last season but not physical," he says.
Leading the line charge this fall will be Isaac Alaniz, Robert Cardenas and Jose Madrigal, with Jose Garza serving as a sparkplug for the unit. "He doesn't say a lot but he leads by example," Lamb says of Garza.
The line is about the only area where Grandview will need to reload, as it returns a bevy of skill players.
Leading the Greyhounds' spread offense will be senior Matt Concienne at quarterback, making this his second season at the helm.
Last season Concienne had the task of not only being a first-time starting quarterback in the 'Hounds wide-open offense, but he had to take the reins from Brandon Artz, who now plays for the University of Idaho and led Grandview to a State quarterfinals appearance in 2005.
"He's learned a lot," Lamb says of Concienne, a converted wide receiver. "He's a lot more comfortable and he won't make the same mistakes (as last year)."
Storm Shea saw varsity action at running back last year and in 2007 the junior will take over the starting position for Frankie Medina, who graduated this past spring.
Receivers are a crucial element in the spread offense, and Grandview will field a fleet of experienced pass catchers, led by veteran Marty Guillen. Concienne's other targets will include the sure-handed Spencer Lewis and Jordan Murutaya.
Lamb and the Greyhounds have their sights set on a return to the State playoffs, a goal made a little easier since the CWAC in 2007 will take four teams to the big dance instead of three like last year.
Prosser will be the heavy favorite in the loaded CWAC South, followed by Ellensburg.
Grandview remains undaunted, though.
"We want to contend for a State playoff spot," Lamb said. "That's always the goal."
The first step towards that goal is this coming Friday at rival Sunnyside for a non-league season opener.