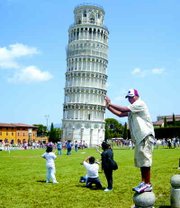 Ryan Hernandez recently returned from three weeks of European travel as part of the People to People Student Ambassador program.
Hernandez trekked to Italy, France and Spain, visiting monuments and eating unusual cuisine.
While in Spain, Hernandez ate escargot, or snails. What did he think of it? "They have an interesting texture," he said politely.
Hernandez also got his first taste of squid, or calamari, which he liked.
Hernandez said that one goal of the trip is to learn about other cultures while dispelling myths about Americans. Meals were impacted by this too, he said. In the beginning, "every meal we ate, we had (soda) and french fries. We finally asked why." The answer was that was the perception of what all teens in America wanted. The teens finally spoke up and expressed a desire to try new foods, which was met with great pleasure from their hosts.
While in France, the teen delegates were able to stay in a home for three days. The host had a personal chef. "Dinner's a big event," he said of the seven-course meals. "Normally a meal takes an hour. This took about two hours. It was long, but it was enjoyable."
Hernandez also had a chance to visit Monaco. "In order to live there, your parents have to be natives or you have to be born there," said Hernandez, adding that the population is extremely dense.
Hernandez spent his 14th birthday in Spain. "It was awesome. Our delegation threw a party for me," he said. On the night of his birthday, he and his team were dining while watching Flamingo dancers. His delegation manager asked if he could get up on stage and dance, which he did.
What he most appreciated about Spain, though, was the Segrada Familia Church, a huge architectural structure that has yet to be completed. Work on the church began in 1886, Hernandez said.
Of Spain, he said, "Their everyday life is our dream." He said that shops shut down from noon to 4 p.m. and re-open at 8 p.m.
While in Italy, Hernandez learned how to repel following a leadership seminar that was focused on teaching the delegation to learn how to take risks, know fear and not be afraid.