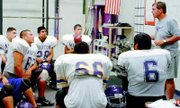 MABTON - The Mabton High School football team has questions and, unlike TV commercials, there is no easy button to help with the answers.
Heading into this Friday's season opener against the Pasco JV team, second-year coach John Durham is still fine-tuning a decision on who the starting quarterback will be.
That's just one of the questions facing the Vikings for this fall's campaign.
Returning quarterback Sal Lopez, a junior, doesn't have enough practices under his belt yet because of other summer commitments.
That leaves Durham to choose between Craig Osborne, a junior from Bickleton, and senior Josh Partida to see who will help the Viking offense to start the season.
But Mabton will be missing more than Lopez on Friday, as only 14 of its 33 players will be eligible to suit up for the opener.
That, combined with a youth movement-half of the team is either freshmen or sophomores-means that Mabton will not field a JV team.
Still, the Vikings do have reasons for optimism, starting with all-everything running back Eli Perez. "He's probably the best back in the SCAC," Durham says of the senior.
With several new faces on the offensive line-led by returners sophomore Andy Galvan and junior Michael Conradt-Durham figures that Perez's legs may not be able to chew up as much yardage as in 2006. As a result, the coach is looking to install a short passing game-"a long hand-off", Durham calls it-in order to keep defenses honest.
Perez will have help toting the pigskin from promising freshman Noe Gutierrez. "We're looking for big things from him," Durham said.
The answer to a successful short passing game, of course, will require receivers. Durham identified Cody Loomis of Bickleton, Arnold Pineda and Partida as likely targets in the secondary.
Mabton may have questions as it looks to improve on last year's 2-8 mark, but Durham feels the 2007 team's attitude will go a long way towards finding answers.
"We may not have a lot of experience in the game of football, but we're working hard and we're eager to learn," he said.