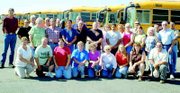 There are some new and familiar people returning to the Sunnyside School District this year as bus drivers.
Karen Robertson is the district's new transportation director and she is new to the Sunnyside area after 14 years driving school bus for the Stanwood-Camano School District.
Robertson said she made the move to the Lower Valley because she wanted to be a transportation director and because of the warmer climate. "I love the weather on this side of the mountains," she said.
The transition from driver to director is going well, Robertson added. "I love it," she said. "It's been a challenge but this is a great group of people to work for. I'm excited about the school year."
Also new is Allan Householder of Sunnyside, a food product distributor, who today is starting his first school year as a driver for Sunnyside. He said he had a chance to do some bus driving this past summer and is looking forward to working with the children in the district.
Dale Hays of Grandview is new this fall, as well, but he's probably familiar to many as he drove school bus for Sunnyside about 12 years ago.
Hays is a retired children's pastor with the Nazarene Church in Grandview and says he's back because "I enjoy the kids and driving".