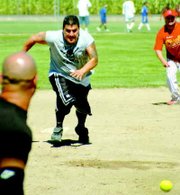 Grandview-based NWC Trucking posted a 5-0 record on the way to winning this past weekend's annual Chicano-Latino men's softball tourney.
Held at Sunnyview Park in Sunnyside, the tourney fielded eight teams from throughout the Yakima Valley.
NWC knocked off Bert's Pub of Wapato by a score of 14-7 in Sunday's championship game to win the tournament.
Other Lower Valley teams making a mark at the two-day tourney were the Granger Merchants, who finished with a 3-2 record to tie for third, and Professional Painters of Sunnyside, which had a fifth-place record of 2-2.
NWC led all teams with five players named to the tourney all-star squad: Shaun Seams, Derek Uberuaga, Timmy Briones, Russ Bentley and Fidel Castro Jr.
The tournament MVP, Ruben Trevino, also played for NWC Trucking.
The Wild Boyz team from Sunnyside had two players, Steve and George Rodriguez, named to the all-tourney team.
Ivan and Josue Garcia from another Sunnyside-area team, La Onda, received all-tourney nods. Johnny Zavala of Granger Merchants, along with Leo Ramirez and Jesse Garcia of Professional Painters rounded out the all-tourney team.
Tourney organizer Bob Sarmiento said the tournament went off without a hitch. "It went pretty well," he said. "We had good weather. I'm ready to go for next year."
The Chicano-Latino tourney has a tradition dating back more than 30 years in the Yakima Valley. On Sunday, organizers continued a more recent tradition started five years ago in naming retired players to a Chicano-Latino Hall of Fame.
The two players selected this year were Santos Trevino and Ramon Montelongo, named to the hall of fame because of their efforts during the tourney's early years in the 1970s.
Trevino was "one of the early guys who kept it going," said Sarmiento. Of Montelongo he noted, "He was one of the original guys."
Sarmiento said his first year or two in the league represented the final years for Trevino and Montelongo's playing careers.
"These are guys that have contributed to something that's still a tradition," Sarmiento said of Trevino and Montelongo's entry in the hall of fame, which now numbers nine players. "We need to recognize people like that."