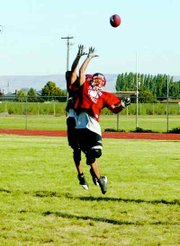 The Sunnyside High School football team is one of the smallest teams in its league this year but the Grizzlies have two things going for themselves that could just propel them into the playoffs. Speed and experience.
The Grizzlies might be small but they can turn the after burners on when needed and the offense boasts nine returning starters and 10 on the defense. That means the 2007 team knows each other well, and that should make a lot of difference this season.
"We're in great physical shape," Sunnyside Coach Mark Marro said. "We will try to take advantage of people who aren't. We're not big but we can run."
This is something that Marro, Tyler Miller (defensive coordinator), Eric Berg (offensive & defensive backs coach), John O'Leary (special teams coordinator and safeties & receivers coach) and Saul Martinez (defensive & offensive line coach) are all excited about.
The Grizzlies went 1-9 last year in the first year of the 3A/4A Columbia Basin league, but as Marro points out, Sunnyside lost two of those games by one point and four games by seven points or less. Translated into laymen terms, the Grizzlies put themselves into a position to win late in the game six times but fell short. With more experience and speed this year, the Sunnyside coaches are hoping to change that.
Sunnyside will mostly run a double wing offense, which will allow them multiple sets and allow them to change their strengths at will. This offense will allow for five receivers at all times and will give them an opportunity to score with their size.
Plus, Marro is promising a few surprises in his offense as well.
Veteran quarterback Adrian Cantu will again get the nod to start this year.
"Last year as the season went on Adrian became more settled," Marro said of his quarterback. "At camp this year he really came into himself."
Marro is really excited about the prospects of Cantu this year, saying the senior has a very strong arm and if he can get the protection he needs, he will be able to throw the ball anywhere on the field within 40-yards.
"I've been very happy with him," Marro added.
In case Cantu goes down during the season, Gibby Briones will step in.
Sunnyside's running backs all are starting returners. Speedster Jesse Montelongo and Joseph Villanueva will start at the wings and Danny Alvarez will return as the ace back.
Nathan Cornelius, Eric Garza, Gibby Briones and Bryce Rinehold will alternate as wide receivers.
Marro will call 99 percent of the plays, he said, but there will be times when he will give Cantu the green light to audible at the line.
Again, the speed of Sunnyside's running backs and wide receivers, with the strength of Cantu's arm, have the Grizzly coaches feeling good.
Defensively, the Sunnyside coaches are excited about Kyle Pearson.
"He's an outstanding player for us," Marro said.
Pearson will alternate between the defensive end and middle linebacker positions.
Outside linebacker Jordan James is another player being talked up and sophomore Jose Barrajas will be returning as a defensive tackle. Barrajas started the last two games last season as a freshman and his stint on last year's wrestling team has made him stronger. Andrew Rios will start on the other side as defensive tackle.
Jesse Montelongo and Joseph Villanueva will pull double duty as safeties and Eric Garza and Nathan Cornelius will play on the corners.
Danny Alvarez will take care of the kicking duties, being called in for kickoffs, PATs and field goals. Marro said Alvarez has been able to boot a 37-yard field goal in practice. Bryce Rinehold will take care of the punting duties.
"We're looking good," Marro said of the his special teams. "We're not real deep but our No. 1s are real strong."
This year's strategy will be taking one game at a time. The top four teams will make the playoffs.
"We have to win the games that are winnable and then we will have to surprise one team," Marro said of his team's chances of making the playoffs. "We've worked real hard and the kids feel good."
He said nothing crazy will be done on offense or defense, his kids just need to make the plays.
Marro feels the top team in the 3A CBL this year will be Kamiakin, noting their defense was ranked in the top three in the nation last year and the Braves have returned most of their players. But, he said, at camp this year his Grizzlies matched up with the Braves and played very strong against them.
The Grizzlies will open their season this Friday, Aug. 31, at 7:30 p.m. at home against cross town rival Grandview.