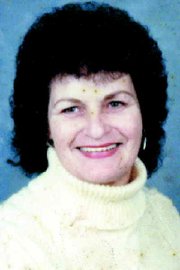 The Lower Valley Crisis and Support Services office in Sunnyside lost a friend and advocate this past Sunday with the sudden death of long time director Aurelia "Ricki" Ann Tebaldi, who was 69.
"She had been struggling with some breathing-related health problems in the past few weeks, but she seemed to be getting better," said Elaine Willman, president of the Lower Valley Crisis and Support Services board. "It's just a stunning blow."
As director of the agency for more than 20 years, Tebaldi oversaw the program's growth from "two-and-half employees to 12 or 13 fulltime employees," according to her husband Al, who credited her with shaping the agency into the service it is today.
Willman agrees, "She's just been a source of strength to hundreds of women in this region in terms of helping them through transition from victim to strong survivors of abuse."
Lower Valley Crisis and Support Services assists victims of domestic violence, sexual assault and all crime victims. "We had 4,000 client contacts last year," Willman said of the agency. "It's quite an unsung hero and the staff maintains low visibility for the confidentiality of their clients."
It was Tebaldi who guided the service's growth, which was recognized throughout the state.
"She was commonly recognized statewide in the field of domestic violence," Willman said. "She had a wonderful reputation."
Tebaldi was not only successful at administering the program, but she was able to relate well with the victims the agency assisted.
"She had an empathy, compassion mixed with a straightforward communication style," Willman recalled. "She accepted people right where they were in their life and helped them move forward. She was an exceptional, strong woman."
At the same time, Tebaldi wasn't one to draw attention to her efforts.
"She was very humble," Willman said. "You would never know to meet with her what strength was within her. She was just a ramrod of strength for herself and others."
Willman said Tebaldi's death is particularly sad because of an event Lower Valley Crisis and Support Services is co-sponsoring with the city of Granger this coming Sunday, Sept. 2.
Called Despida Del Verano (saying goodbye to summer), the event has drawn over 5,000 people in the past and will be both a family entertainment event, as well as a fundraiser for the Sunnyside-based agency.
"She was looking forward to that event. She was so excited about it," Willman said. "We're dedicating that day to her."
Tebaldi leaves a void in terms of her support to crime victims and as a grant writer for Lower Valley Crisis and Support Services.
Even in sorrow, the service will forge ahead, says Willman.
"She leaves a very big void that the board will address in the future," Willman observed.
The agency board has named employee Sara Herrera as an interim director.
"We don't want to bring a new staff member into the pain," Willman said. "We're very lucky to have a wonderful board and highly trained staff."