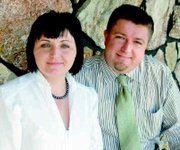 Married physicians Michael Gawlik and Anna Madej recently began practicing in Sunnyside, she as an internist at Valley Internal Medicine and he as a hospital based physician at Sunnyside Community Hospital. But making their way to this area was a very interesting journey indeed.
Both Gawlik and Madej immigrated from communist-ruled Poland to Canada when they were children. Madej's family did so legally after seven years of trying. Gawlik's family faced a different challenge.
Gawlik said that he and his family were readying to leave for Italy. His little brother was just an infant. In order for his family to "go on vacation" to Italy, the government withheld his infant brother's passport in an attempt to force Gawlik's family to return to Poland. The attempt didn't work, thanks to the fact that Gawlik's mother had a friend in the passport office.
After that, Gawlik spent a year at a refugee camp in Rome (which he said was more like a hotel). Following that, his mother, a radiologist, and his father, a neurosurgeon, took the family to Canada,
It was in Canada at Queen's University, where undergraduate students Madej and Gawlik met.
"She was the president of the Polish Student Association and I joined the club," explained Gawlik.
While the two were finishing up their undergraduate studies, they were each eyeing a career in medicine. But the Canadian government cut medical school admissions by 50 percent.
The couple considered studying medicine in the United States, but tuition was too costly. Together, they settled on Jagiellonian University in Krakow, Poland, where tuition costs about one-third of what it does here.
That was in 1996, after the fall of communism. Said Gawlik, "The biggest thing for me was to see how the country has changed since the fall of communism. I can still remember martial law. In 1996, things were really changing for the better. It was a very, very positive change."
Added Madej, "It was a nice cultural experience to go back there. We saw the birth of the grocery store, shopping malls. They never had anything like that before."
In fact, before immigrating, Madej said life in Poland was "very controlled, very bizarre."
The couple came to the United States for their residencies. Going to Canada to practice really wasn't an option. "The Canadian medical system is in a shambles. It's dysfunctional," said Gawlik, explaining that waiting lists for specialized care are way too long.
When they came to the states, the two were allowed to practice at the same facility in Harrisburg, Pa., where they later met Dr. Francisco Vinci, who currently practices in Sunnyside.
One of the requirements for foreign physicians is that they have to practice in underserved, rural areas, Gawlik and Madej said. This took them to the Centralia/Chehalis area for three years.
It's difficult for a husband and wife team to find work for the same organization as internists. "Usually, (an institution) only needs one," said Madej.
The couple had been slated to go to Idaho, but found out at the last minute that funding fell through. They both lost their prospective jobs. That's when they spoke with Dr. Vinci and learned of two openings here.
They've been pleased ever since they came to work for Sunnyside Community Hospital six months ago.
Gawlik said, "For such a small hospital, it's rather advanced." Madej agreed and praised their technology.
But that's not the only reason they're happy to be here.
"They really care to do a good job," said Madej. "They're always trying to make things better."
Added Gawlik, "Every single aspect of the hospital is continuously evaluated for improvement."
Gawlik said it's probably difficult for his parents to believe the standard of health care here as opposed to Canada, where everyone has basic health insurance.
"Canadians think that because (American) people don't have insurance, they don't get treated. It's 100 percent not true."
He also added that his parents are very impressed with Sunnyside Community Hospital's imaging department and the fact that they have a CT machine and portable MRI.
The couple said they've always known they wanted to practice medicine together. And, adds Gawlik, "It's very difficult to keep medicine out of topic at the dinner table."
Patients can likely expect to see Gawlik and Madej practicing here for quite some time. Not only have they established child care services for their children, Maximillian, 4, and Sylvia, 3, but they have a great appreciation for the area and the recreational opportunities it provides. "We love to go hiking and go for walks. It's a really nice place, really close to the mountains," said Madej.
"We're planning to stay here for a long time."