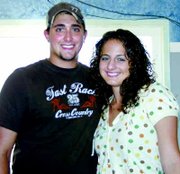 Ryan and Hilary Cullen are the new owners of the former Javahhh Espresso. They have changed the look of the Sunnyside espresso shop to resemble that of a schoolhouse, thus calling the coffee spot 'School House Espresso.'
The couple began the endeavor of running their new business Wednesday, Aug. 1.
They said that the fact that they are young and don't have kids factored into the decision of owning their own business. "The opportunity presented itself and we decided to take on the challenge," added Ryan.
"Plus, I worked in coffee for four years and the experience of owning my own stand extends the enjoyment I receive from the experience," Hilary chimed in.
Both of the Cullens are currently pursuing degrees through the Yakima campus of Central Washington University to become educators, and agree the business will add to their busy schedules.
"Because of our aspiration to become teachers, we wanted to give our espresso stand the schoolhouse theme," Hilary stated.
"It is nice to work together...being on the same schedule," they agreed.
"We try to provide our customers with satisfaction and quality service," Ryan noted.
They said they intend to cater to the schools in Sunnyside, providing free deliveries for employees within the schools until 11 a.m. each day and then again at 1 p.m.
"I remember needing more coffee than that morning cup as a substitute and want to provide that for teachers because it's not easy to get away for more," said Hilary.
Another goal for the Cullens is to promote achievement in the schools by offering students with high grades free beverages.
In addition, the couple said they will have daily specials geared around education, such as WASL Wednesdays. "We will have WASL questions for our customers to answer for a discount on their drink," said Ryan.
Mondays will be known as "Pop Quiz Monday," Tuesdays men will receive a 25¢ discount for "Manly Tuesdays," Thursdays will be known as "Girly Thursday" for a 25¢ discount for females, Fridays will be "Double Punch Friday" and Saturday's discount will be dependent on car colors chosen that day.
"So far, the customers have been very excited for us because a lot of community members know us since we grew up in Sunnyside and attended schools here," the couple stated.
School House Espresso is located on Yakima Valley Highway, across from Snipes Mountain Restaurant and Microbrewery, and offers a variety of beverages and baked goods to satisfy the palate.